For the 13th time, more than 100 magazines(!) from all over the world voted for the best musical instruments and audio equipment of 2011/2012 in more than 40 categories of the mipa Musikmesse International Press Award.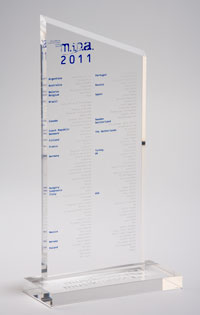 The Winners of 2012 are:
Best innovative product
– Kemper Profiling Amplifier
Bass
Bass Amp
– Fender Super Bassman
Bass Cabinet
– Ampeg PN-410HLF
Electric Bass
– Yamaha BB2025X
Acoustic Bass
– Warwick Alien Deluxe
Drums
Acoustic Drums
– Tama SLP Sound Lab Project Snaredrums
Cymbals
– Zildjian K Constantinople Renaissance Ride
Drum Hardware
– DW 9900 Air Lift Tom Stand
Drumheads
– Remo X14
Drumsticks
– Vic Firth Gavin Harrison Signature Sticks
Electronic Drums
– Roland V-Drums TD-30
Percussion
– Meinl Slap Top Cajon
Guitar
Electric-Guitar
– PRS SC58
Acoustic Guitar
– Yamaha AC3M
Guitar Amp Combo
– Yamaha THR10
Guitar Amp Head
– Hughes&Kettner Tubemeister 18
Guitar Effects
– TC Electronic TonePrint-Series
Pickups
– Seymour Duncan Zephyr Silver Pickups
Acoustic Guitar Amp
– Fishman Loudbox Artist
Strings
– D'Addario XL Pure Nickel Electric
Keyboards / Software
Synthesizer Hardware
– Roland Jupiter-80
Stage Piano
– Clavia Nord Piano 2
Keyboard Workstation
– Korg Kronos
Controller Keyboard
– Akai MAX49
Software Instruments
– Native Instruments Komplete 8
Organ/Portable Keyboard
– Hammond SK-Series
Live Perfomance Tool
– Native Instruments Maschine
Pro Audio
Portable Sound
– Yamaha DXR DXS series
PA-System
– JBL VTX
Live Microphone / IEM / Wireless Systems
– Sennheiser SK5212
Sound System Technologies
– Yamaha StageMix / iPad
Mixing Desk (Live)
– Midas Pro2
Studio
Studio Microphone
– Microtech Gefell M930TS
Studio Monitor (Nearfield)
– Focal SM9
Recording Software
– Avid Protools 10
Recording Hardware
– Universal Audio Apollo
Mixing Desk (Project Studio)
– Presonus StudioLive
Field Recorder
-Zoom H2n
DAW Controller
– Akai MPC Studio
Gearjunkies wishes to congratulate the winners with their prizes.