RME announces that starting April 2012 the successful Fireface UCX will be shipped without the previously included Basic Remote Control, and therefore at a lower price. It has been found that users prefer to use the much more powerful Advanced Remote with the Fireface UCX (as well as the Fireface UFX). The Advanced Remote with six more programmable buttons is sold separately..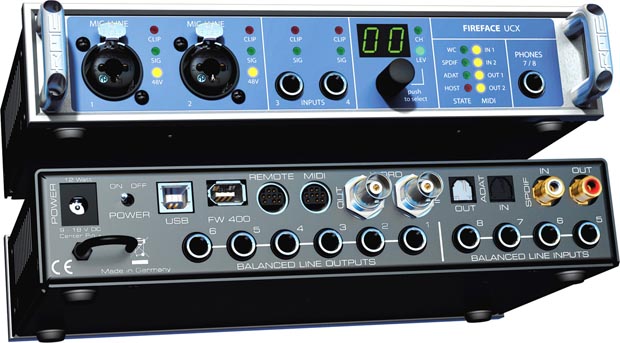 The Remote Control Edition of the Fireface UCX will be available until the Standard edition starts shipping.
More about the Fireface UCX:
The Fireface UCX is a highly integrated 36-channel USB and FireWire pro audio solution in an ultra-compact format, for studio and live recordings.
It continues RME's long tradition of designing compact high-end interfaces, packing into a half-rack size unit what usually would be spread out over two or three 19 inch panels. RME once again has put the latest technologies, introduced with the award winning flagship UFX, plus a bunch of newly developed ones, into a half 19 inch housing with full mobile usability. The result is not just a smaller version of the smash hit UFX – the UCX continues the tradition of RME's tremendously successful compact interfaces, and combines it with the great usability of the successful Babyface through the optional remote control.
Equipped with a new 2011 A/D and D/A high-performance converter design all I/Os operate at up to 192 kHz. The AD/DA conversion shines with an impressive 114 dBA dynamic range on both record and playback. All analog I/Os use a low latency converter design that reduces the overall latency of timing critical applications, in live situations, and in computer-based recording studios. The converter latency is so low (0.4 ms at 48 kHz) that it can be ignored, turning analog digital monitoring into real analog-style monitoring.
Thanks to the included optional Class Compliant mode the Fireface UCX works with Apple's iPad(TM) and iPad 2, offering perfect stereo up to 8 channel recording (tested with MultiTrack DAW and Music Studio), high-resolution stereo playback up to 96 kHz 24 bit, superb microphone preamps with EQ, dynamics, professional balanced line outputs, a hi-power headphone output and a Sysex-capable double MID I/O port. The combination realizes an attractive mobile music creation and recording platform, in a closed hard- and software system without common driver problems and interferences from 3rd party hardware. It provides stability, a good realtime performance and an easy handling.
The Fireface UCX integrates a newly developed pro audio X-Core, supporting USB and FireWire with the maximum performance and ultra-low latency operation, combined with the legendary RME driver stability and maintenance, on both bus protocols.
More features:
• TotalMix FX with the complete DSP-driven effects engine from the Fireface UFX, including all effects up to 192 kHz.
• Two mic preamps with the premium technology from RME's high-end recording bestsellers Micstasy and UFX, including the AutoSet overload protection.
• Included Monitoring Controller: A combination of the impressive flexibility of the TotalMix FX monitoring tool set and the optional Advanced Remote Control.
• Plus active jitter suppression technology, professional reference level support, advanced stand-alone functionality, full 192 kHz operation, and two high speed MIDI I/Os