Event Electronics is extremely excited to announce the release of its very first three-way studio monitoring system, the 2030.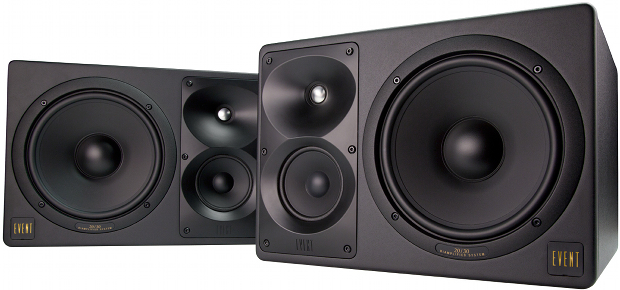 The Event 20/20 pedigree needs no introduction. As the speaker family that made studio monitoring accessible to countless artists and engineers, it has become a household name and is a staple in studios the world over.
With the recently released 20/20BAS v3, Event reinvented the legacy and has been critically praised for maintaining the fundamental characteristics that made the original speaker so successful while improving upon the overall performance and dynamics of the original speaker.
Now the time has come to build upon this legendary speaker platform, with the new 2030 three-way studio monitor system.
The Event 2030 is a category defining three-way studio monitoring system. It combines three discrete drivers to allow for incredibly accurate reproduction of the entire audio spectrum.
"We're incredibly excited about the 2030" commented Event's Global Sales & Marketing Manager, Damien Wilson. "Both the 20/20BAS and the Opal are truly legendary speakers, and now we are able to offer an accurate, detailed three-way system at a price that makes the 2030 the clear leader in its category".
Rather than simply adding a mid-range driver to the 20/20BAS configuration which could have been easily achieved, Event's engineers took the three-way concept to a new level, resulting in a class-defining speaker system with compelling audio performance and a physical embodiment that makes it ideal for use in near field applications. A new wave guide assembly was designed to house the speaker's mid-range and high frequency drivers as well as optimise audio dispersion and power response characteristics.
For the critical mid-range application a 3.5-inch cone transducer was engineered using a pressed pulp and polypropylene cone, combined with an optimised magnetic circuit. The driver is loaded onto a shallow wave guide that results in increased sensitivity and output while generating very low distortion artefacts, giving the 2030 speaker system an incredibly defined, upfront vocal character.
Combined with an aluminum alloy dome tweeter, the mid-high wave guide assembly employs an optimised set of electronic acoustic filters, derived from Event's flagship Opal studio monitor, to maximise phase, time correction and frequency response characteristics. The resulting signal processing achieves controlled audio reproduction and smooth frequency response performance extending well above 20 kHz.
A key design feature of the 2030 amplifier is use of a proprietary, soft clipping power amplifier design topology that never allows the amplifier's output waveform to become jagged or harsh. This results in a speaker system whose character stays consistent no matter what the output level, as audible distortion artefacts are kept under control.
The new Event 2030 combines precisely engineered acoustic design, signal processing and amplifier technology to provide an incred- ibly detailed and wide soundstage with a bass response that far exceeds what most would expect from a box this size.
The 2030 is a welcomed addition to the Event family.
For more information visit www.eventelectronics.com/2030