Kimberly Thompson is truly one of the World's greatest drummers — she's versatile, too. In her career, she's played with the biggest names in jazz, soul, funk, hip hop, R&B and pop: Bobby Hutcherson, Roy Hargrove, Meshell Ndegeocello, Jay Z and Beyoncé, who she's been touring with for the past six years. Kimberly's good friend, recording engineer Benedetto 'Nino' Caccavale chose Focusrite's OctoPre MkII Dynamic to be at the centre of her drum recording set-up.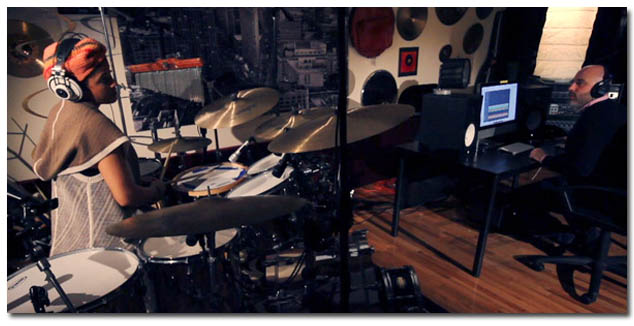 To record drums, Kimberly uses the Focusrite Liquid Saffire 56 and a pair of OctoPre MkII Dynamics to provide a total 24 channels of high-quality preamps and A-D conversion, as well as a pair of studio-grade headphone outputs, which can be fed different mixes through the included Saffire Mix Control software.
With eight channels of Focusrite microphone preamplification, eight VCA-based Red 3-derived compressors and built-in 24-bit / 96kHz digital inputs and outputs, OctoPre MkII Dynamic is Focusrite's feature-rich expansion upgrade for any digital audio workstation. It's equally an ideal expansion for any analogue or digital console, or hard disk recorder.
Nino (producer) put the Focusrite rig together for Kimberly's space. "She hit me up and said 'hey, I gotta figure out how to record these drums', and I found the OctoPre MkII Dynamic and knew it was going to solve the problem. I've got compressors on every channel and I was like 'yes!'. If you're doing R&B or pop music, you need to have a very clear signal, and what I like about the preamps is that it's very warm and round, so your top end is very round, it's not jagged. That's what attracted me to the Focusrite mic pre."