The new C2 OS v2.00 update will give your Nord C2 the same B3 organ engine and rotary emulation as the new Nord C2D. This includes the improved B3 Key Click (with an added Key Bounce menu setting, and an extra high Key Click level available in the Sound menu), improved B3 Percussion behavior, improved B3 bass response and the new 122 Rotary model from the C2D (in both close and normal mic-positioning).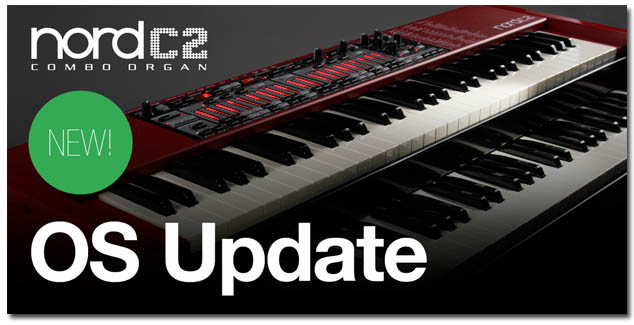 Nord C2 OS v2.00 gives Nord C2 owners the new Nord C2D B3 organ engine! In short, the OS v2.00 update includes everything from the C2D but the drawbars!
New features:
New Rotary Speaker simulations of a vintage 122 unit with a new Drive.

Redesigned B3 Key Click simulation

Improved B3 Percussion when playing near legato

Improved B3 bass response

Additional sounds settings for Key Bounce, Rotary Horn/Bass Balance and Key Click Level.
The new Nord C2 OS V2.0 is available for free download here: Mac users or Windows users.
The Nord C2 Combo Organ User Manual has also been revised to include the new OS v2.00 features and is available as a PDF-download.