iZotope is one of those developers of software that keeps innovating and doesn't release your 'middle of the road' software. Where many developers keep releasing adaptions on a theme, iZotope often comes up with something new, … really new! Their latest product, Iris is just that!
Iris is presented as a sampler/synthesizer. It will give you the opportunity to process your own samples and audio files with the, at first sight, complicated spectrogram display. You can load three samples in total and combine and layer them with each other. You'll be able to edit the samples as a synthesizer with a wide range of sub-oscillator waveforms, envelopes, LFOs and much more.
The software automatically detects 'source note' and key. Together with the real-time pitch shifting you can time your sample perfectly. Furthermore you have a number of effects at your disposal, ranging from your standard reverb and delay to distortion, chorus and a number of filters.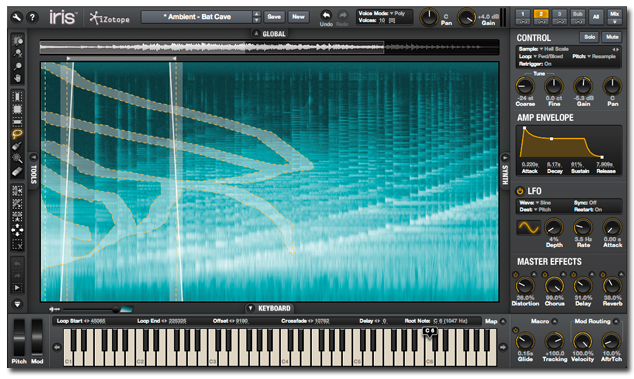 To be honest, the first time I opened Iris I was a bit overwhelmed. It all looked very complex and well… vague. I am not really a sample freak. Apart from drums and some acoustic instrument samples (from Komplete 8) I rarely use a sampler, and certainly not for sound design. But that's exactly the impression I got when working with Iris: A perfect tool for sound design!
Iris is not intended to load and play the perfect piano or drum sample. If you are looking for that kind of use, there lots of others who can do that job, like Halion or Kontakt.
Iris has four slots, three of which can load samples. There's also a sub-sound slot to give your samples a bit more 'ooomph' (power). You can drag your samples easily into a slot, or you can choose samples from the four gigabyte sample library. We tested the Iris+ version which holds the 'extra' sample packs 'Glass' and 'Wood' adding even more files to your sample library.
Clicking on a slot opens it so you can zoom in on your sample form. With the 'All View' option you'll get a perfect overview of all your slots. From here you can edit all your layers as well. A very nice feature is the 'Tie Button' with which you can activate all parameters of your slots at the same time. With just one button you can edit the parameters of all four slots.
As mentioned before, after loading a sample in Iris it will detect the key and place it at the appropriate position on the piano roll. The allocation of the other keys on the piano roll is automated, but can be switched off if you want. You can do it manually and create multiple samples for example. So far I have been working with standard samples, now it's going to get interesting!
When loading a sample you'll see a tool panel on your left side. It looks like a photoshop panel with tools to edit an image not a sample! But again, this is where the power of the Iris software comes to life.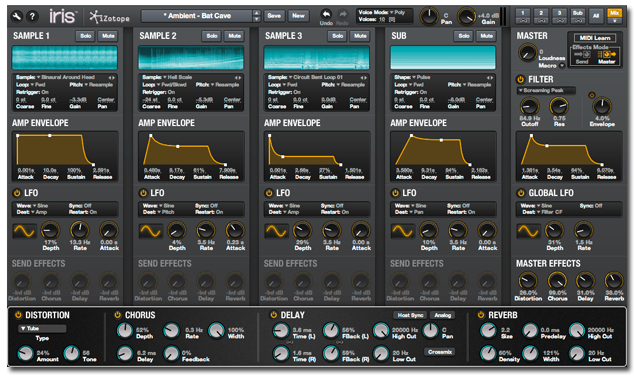 With the 'Time' tool you can play samples from left to right and in reverse in a pre-located space, selectable with the 'lasso tool'. Iris lets you focus on your frequency range as well: with the 'gum tool' you can delete frequencies for example. Seriously, sampling will never be the same again, and your samples will never sound the same again! A simple piano sample can become a sound of doom and a vocal can become something from out of space! Plus, let's not forget, everything is multiplied by three because all these tools are available for each slot! You can layer these samples with each other and alter the ADSR, LFO, panning, pitch, gain and filters to knead your sound even more…
Each sample has a loop start and end point. With Iris you can draw in cross-faders. By creating loop points you'll have more control over your samples, especially when working with more layers. It makes it much easier to create long samples, which, I noticed, gives you more sound control.
Loops can be played on top of each other and started with pressing on a key. This way you'll be able to create a unique rhythm which makes your sound very complex. But as the software does most of the work, this job is very easy and simple.
The above does sound a bit complex and difficult to understand, right? But, really, it isn't. Like I said before, when you see the program for the first time, you'll probably think: … yeah ok, now what!? But as soon as you start playing and working with the presets, you will notice the power of this software.
Finally, let me mention the effects again. There are four slots available here as well, all coming together in the master effects. You have several effects at your disposal like distortion, chorus, delay and reverb. Also you place a LFO on your master if you want. For even more complex effect settings you create your own effect routings.
Naturally, all parameters of Iris are MIDI controllable. With MIDI learn you can designate all parameters to your preferred MIDI controller. The software runs on Windows (XP, Vista and Windows 7, 32/64 bit) and MAC OSX 10.5.8 or higher, with any host like RTAS, AU, VST and VST3.
Verdict
Even if it doesn't look like it at first, Iris is for anyone! Yes, it seems to be a bit complex in the beginning, but thanks to the familiar features you'll find on a normal synth or sampler, you will be able to alter or design your own sounds very easily and quickly. That said, Iris is a great piece of software for sound designers or producers who want to create their own unique sounds. Due to its, kind of, 'experimental' nature it isn't something for the average 'singer-songwriter'. But, then again, this is the power of Iris. It is really not just a sampler, it is a tool to create sounds you could only dream of before.
This makes the price 299 Euro and 329 Euro for the 'plus' version more than reasonable. My advice is to go for Iris+ as you get even more samples. Another tip is to check out the tutorial videos on the iZotope website. You can also download the demo version and convince yourself of the power of Iris.
I'd describe Iris as a sampler, but, then again, it is actually much more than that.
Marc van den Hurk