Originally designed by Bob Moog and released in 2000, the Classic MF-104 Analog Delay was manufactured as a limited edition release of 1000 units. A special "Bucket Brigade" delay chip was employed allowing the effect to remain completely analog. Unfortunately, the supply of these chips was limited and the final MF-104 sold in 2001. Since then there have been two reissues of the Classic MF-104, the MF-104Z and the MF-104SD. In that time, each has been added to a short list of the most sought after analog delays in history.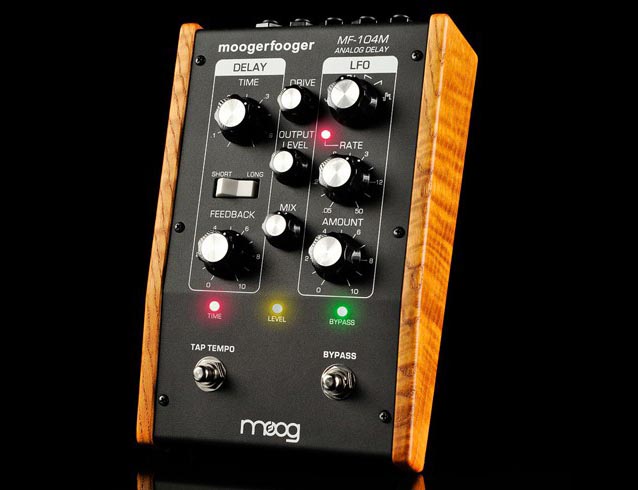 The MF-104M recreates the sound and vibe of the Classic MF-104. It even uses the same vintage "Bucket Brigade" delay chips found in the original, which provide 800ms of the richest, creamiest, all analog delay on the planet.
A new 6 Waveshape LFO significantly expands the sonic capabilities of this Classic Analog Delay. Use it to create expansive delays that transport you through time, beautifully modulate the delay trails, or create sounds and delays that are simply out of this world.
Spillover Mode has been the most popular modification to the MF-104 and is now included in the MF-104M. Decide on the fly whether delay trails end or continue when you disengage the Delay.
A dedicated Tap Tempo switch lets you quickly tap in your Delay Time or LFO Rate, and the addition of MIDI brings a new world of control and function to the MF-104M. Use it to control and manipulate every function on and under the hood. It's also a great way to incorporate an analog delay into your studio productions.
Rear panel features include CV/Expression Pedal inputs which provide hands free control and manipulation of Time, Rate, Feedback, Amount, and Mix. Like all Moogerfoogers, you can connect Moog EP2 expression pedals to any of these CV/Expression inputs to control functions, or connect other Moogerfoogers and create new effects.
Additionally, the Feedback Insert allows you to patch in other stomp box or outboard effects onto the delay line for even more creative flexibility.
The MF-104M will be available for a limited time, so grab this piece of Analog history before it's gone forever-forever-forever-forever!