MOTU just introduced their new desktop audio interface, Track16. Simple operation. Clean design. Studio-grade sound quality. Track16 exhibits these design principles through and through. And don't let its compact size deceive you. There's plenty of I/O available for a well-equipped personal studio, ready for multi-player recording sessions. Track16's pristine mic preamps, balanced line-level audio connections, and renowned MOTU engineering deliver world-class audio quality.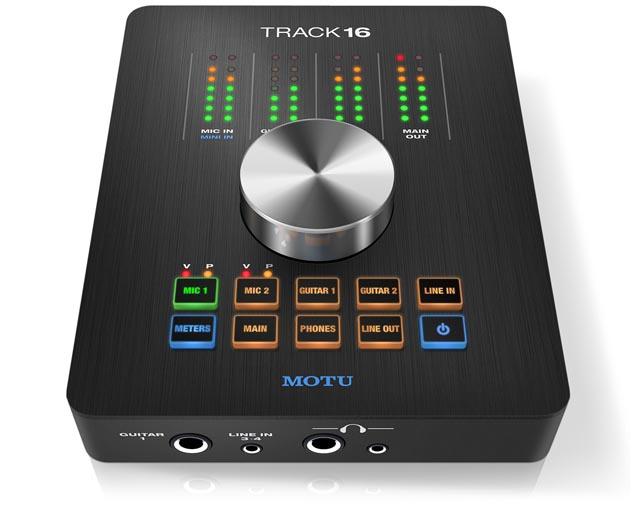 An astonishing array of inputs and outputs
How can such a compact unit offer 16 channels of input and 14 channels of output, simultaneously, with mixing? The short answer: Track16 truly is an engineering achievement, packing the same quantity and quality of audio channels as other interfaces that cost hundreds more.
Luxurious metering
Track16 sets the bar high for detailed metering in such a compact interface. You get dedicated 7-segment main out meters, and configurable meters for all other analog inputs and outputs. Just press the METERS button to toggle between the blue and white labels. It's easy to monitor your signal levels at a glance with Track16.
Studio grade sound
Track16 has been engineered with MOTU's renowned, award-winning audio interface technology. The result is the pristine audio quality and rock-solid performance that MOTU interfaces are known for worldwide. You can always record and mix with confidence, knowing that decades of engineering experience are behind you, every step of the way.
Universal connectivity
Thanks to MOTU's Hybrid interface technology, Track16 connects to any Mac or PC via FireWire or high-speed USB 2.0. Connect your mic, guitar, keyboard, and digital input, and you are ready to make pro-quality recordings.
For more details on this new desktop audio interface from MOTU check their website.