Mackie announced a new line of ultra-compact, powered loudspeakers offering a level of innovation never before seen in the world of portable sound reinforcement — DLM Series Powered Loudspeakers. Packed with cutting-edge technology, DLM speakers each feature a staggering 2000 watts of power, proprietary Mackie TruSource™ technology and a full-featured integrated digital mixer/processor. This potent technological combination not only allows for the incredibly small form factor of DLM, but also delivers a level of performance and fidelity that is simply not otherwise available. The extremely powerful DLM system includes two full-range models (DLM8, DLM12) along with a high-output compact subwoofer (DLM12S).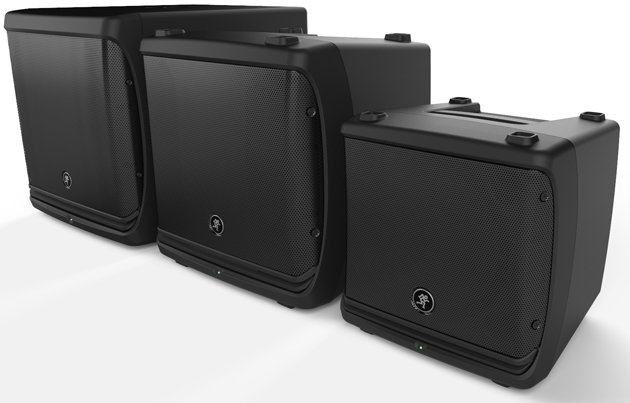 "With DLM you are seeing Mackie's commitment to delivering groundbreaking technology," commented John Boudreau, Mackie SVP. "Yes. It's amazing that DLM speakers are a third smaller than anything in their class. But it's the unmatched power, processing and fidelity that really sets DLM apart from everything else on the market."
Each DLM Series Powered Loudspeaker delivers 2000 watts of ultra-efficient Class-D power. Featuring TruSource™ technology, the full-range DLM8 and DLM12 are equipped with Mackie's TruSource driver that incorporates the high-output woofer and 1.75" compression driver into an incredibly compact common-magnet design. Powerful TruSource DSP delivers seamless clarity, consistent dispersion and unmatched fidelity. Both the DLM8 and DLM12 feature the Mackie DL2 integrated digital mixer, providing a dual-channel mixing solution for a wide array of possible connections with incredible channel features like 3-band EQ and 16 great-sounding effects. Plus, system processing like a multi-band feedback destroyer, six speaker modes and Smart Protect technology provide the tools needed for truly professional applications. The ultra-compact form factor of the DLM8 and DLM12 includes a rugged PC-ABS cabinet, powder-coated grille and integrated kickstand for personal monitor use. The companion DLM12S packs 2000 watts of chest-pounding power and deep low end into the highest-output compact sub on the market. The integrated DLP Digital Processor provides system processing tools like a variable crossover, speaker modes for optimum voicing and the system protection. The rugged 15mm poplar cabinet is unbelievably compact with a durable, powder-coated grille and integrated pole-cup for mounting a DLM full-range loudspeaker plus additional configuration options that include wall mounting and flying for professional installs.
For more information, please visit www.mackie.com/DLM. There's an email signup form to keep up with the latest DLM info.
Enter for a chance to win a pair of DLM12 12″ Powered Loudspeakers by entering Mackie's DLM: The New Shape of Sound Sweepstakes hosted on Mackie's Facebook page. The contest runs until September 27, 2012.
Mackie DLM Series 2000W Powered Loudspeakers will be available Q4, 2012. The DLM8 will have a list price without tax of 875,00 Euro. The DLM12 will have a list price without tax of 999,00 Euro. The DLM12S will have a list price of 1249,00 Euro.
Interested? Ask Vladimir!