Propellerhead has released Radical Piano for sale, a new Rack Extension instrument that brings a wide range of natural and bendable piano sounds to Reason and Reason Essentials. Using a blend of sampled pianos and physical modeling synthesis, Radical Piano is a lightweight, authentic instrument with sounds ranging from pristine concert grand pianos to creaking living room uprights.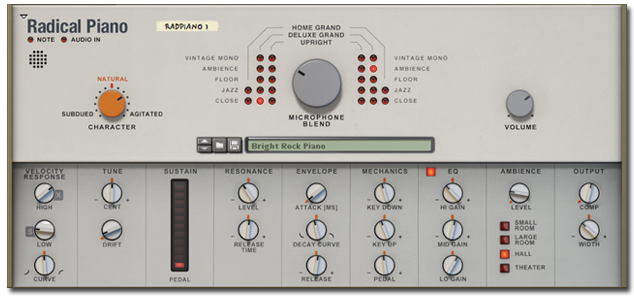 Included in Radical Piano are a deluxe grand, a home grand and an upright piano recorded in top of the line recording rooms with high-end microphones from multiple positions, all user selectable. For players, tons of expertly crafted presets are included in the instrument—pianos for every situation and every song instantly available with no loading time. For sound designers and producers, selectable microphone blends and velocity response as well as tweakable mechanical noise, sympathetic resonance and built-in ambience allows for the creation of an infinite number of sounds that are 100% unique.
Radical Piano responds naturally to sustain pedal movement, key noise and velocity. Yet, it also goes beyond realism. With the turn of a knob the tonal characteristics of the pianos can be transformed, shifting from a soft intimate performance to a bright aggressive instrument that will cut through a mix. Radical Piano also has an audio input, for routing audio, e.g. a vocal recording or a drum loop, through the instrument to hear it resonate the strings as if played and recorded together live with the piano in the same room.
Pricing and availability
Radical Piano is available for immediate purchase in the Propellerhead Shop, at a price of USD $99/EUR €79. Users can also download a free, fully functional trial version for 30 days to try Radical Piano in their music.