Just like speakers, headphones are quite hard to pick because there are so many brands and models to choose from. With the Danish design of the AIAIAI TMA-1 Studio there is yet another model to choose from. Having dealt with various headsets during the years, to me the two most important aspects are sound and durability.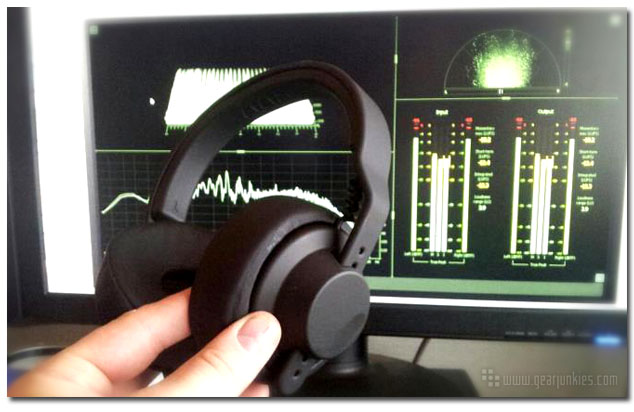 Sound
Sound is obviously a matter of taste but when you look at the functions you use a headset for checking up on the stereo field and the balance of the mix you should get an accurate representation. For starters I've tried the headset with both the (closed) softer ear cups and the more sturdy ones and I think pretty much everyone would prefer the latter so I'll use those from now on. The headset is spec'ed from 20Hz to 20kHz which is normal for this price range. When listening you get the low-end which translates pretty good. The mid-end is pretty much the same albeit at slightly elevated levels. If you use the softer ear cups you'll boost the mid-end just a tad more and will work better for vocals and other lead sounds. The high-end also is detailed but just sounds pretty veiled in comparison with other headset models I compared it with. You should be able to work with it if you keep it in account, otherwise your mixes may end up sounding too harsh. It also means you can keep it on longer because the ear fatigue most of the times comes from too much high frequencies. Just make sure the level is reasonable since you otherwise would burden your ears more than you should.
On the whole the sound has a decent stereo field detail but for my taste sounds a little bit 'boxy'. Mind you that if you work with that for a month or so you get used to that sound and your mind will compensate for that. It does help to wear them a lot and use them on your smartphone and/or iPod. Just for fun I tried listening to a
Tchaikovsky violin concerto and you get the impression that this headset can keep up with the details to a certain extend. At some more forte passages the mid section overwhelms a bit. The apparent veiled sound of the high-end to me indicates that this headset is mostly tailored to dance related music styles. With Deadmau5 it just sounded fine to me because you couldn't hear the overly distorted sound that much but kept that bass and the punch pretty well.
Durability
Durability is the second most aspect of a headset to me. You want something that will not wear out too fast. This headset has several features that are very neat to have. A detachable coiled cable that's easy to replace. Personally I don't like coiled cables that much but you also can order the straight cable. For cables the weak spots are usually the connections which to me look quite sturdy to me, and if you happen to stumble over that one way too often and it wears out you simply can replace it. Also you can replace the ear cups and if you buy this headset I'd seriously would advise you to buy the extra replacement parts because they aren't that expensive. Headsets can last for several years and it makes sense to take that into account. With this review version I was replacing the ear cups and one of them broke because the two glued components came loose which is slightly disturbing. But you also get a carrying bag for the headset which comes in handy when travelling with the headset.
A quick note on the looks. It has this designer vibe going on. Most headsets look rather dull and technical but to that extend this one stands out a bit. I do think they should have more colors than just black though, just to cater the young hipsters. The headset is fairly light so it sits comfortable on your head for longer times. Mind you that you can wear them for a longer time during composing but when mixing you'll most likely get a false sense of balance when keeping them on for too long. With the foamy ear cups you'll have the advantage that when you are sweating they don't stick and they still are comfortable to wear.
Verdict
The TMA-1 Studio may seem expensive in comparison with its competitors but if you take into account that they will last for a long time because you can replace that parts that wear out and they will last for a decade. They are tailored for the studio in all aspects so they aren't so much all-around for consumers in general but they are more than fine to check your mixes with and/or use as a closed headset for recording.
Update: The issue with the glued components breaking has been adressed and resolved for future units, according to the dutch distributor.