Hiroaki OBA belongs to the younger generation of electronic artists originating from the heart of Tokyo. He is frequently heard among the finest clubs around Shibuya, Minato and Meguro. Not limited by the borders of Japan, he has also played at festivals and parties around Europe.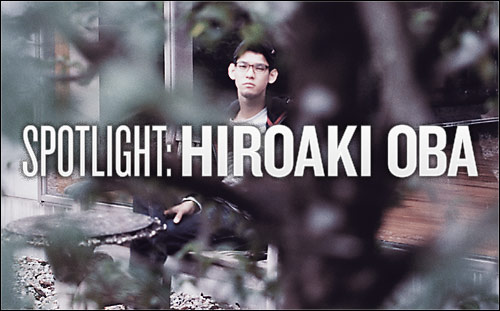 You have made yourself a name as a live performing artist, however you have not released that many records. Isn't that unusual?
Not yet, yeah.. I guess the timing has just been bad. Actually, last year I was supposed to release my stuff on the German label Key Records, but that got delayed because of the earthquake. But an EP together with Watanabe Daisuke will probably be released later this summer.
You just came back from a European tour. Where did you play this time?
This time I played in Lisbon, Brussels, Amsterdam and Gothenburg. The gig in Sweden was amazing, as always. It was at an outdoor party, called Loftet, held in a forest. Many people came, it was a crazy night!
So, how did you become big in Europe?
Big!? Ha ha! Well, In 2010, two years ago, I joined the Red Bull music academy in London. That was my first time in Europe. The academy is a kind of a workshop to which more than 3500 people apply yearly, but only 60 persons can attend. It was a big thing for me. Amazing really! There were so many talented artists attending and from them I learned a lot about beat making.
Which gig do you consider the best in your career, so far?
Well, there's two. One was at the Sonar festival in Barcelona last year. In the beginning of my gig the audience sat down since it was still in the early afternoon. But after just one or two tracks, everybody stood up, loads of new people came to the stage and in the end of the gig people got kind of crazy. That was really cool.
The other gig I consider the best in my career was at the Tanuki Dansu event in Gothenburg two years ago. Tanuki means racoon in Japanese and dansu means dance. My friend Cazuma arranged this party. It was in a forest in a kind of secret place and yet so many people came – it was such a great atmosphere and vibe. I will never forget that party.
How does your live setup look?
For me, the Machinedrum constitutes about fifty per cent of my live sets. The interface is very good and also the sound – it's fat and at the same sensitive. You can make just about any sound with it since the frequency range is so wide. I also use a laptop with Ableton Live to insert certain elements like bass lines, hi hats, claps and kicks. I couldn't do a live set using only Ableton though – it just wouldn't be live for me. With the Machinedrum, the beat is in centre and improvising is so easy. That's why I use it.
Visit www.hiroakioba.net to listen to Hiroaki's music, read his blog and get informed on coming live dates!