Serpent Audio is proud to announce the "Splice" Dual FET Compressor. Inspired by a classic, the goal was to deliver, as close as possible, "that famous FET sound" in a 500 module, while also developing something new and unique. After over a year of research and development, the Splice was born, combining premium vintage sound and a vast array of features, truly pushing the limits of what is possible in the 500 format. With the ability to switch between Classic "Black" and "Blue" modes, or splice different input and output sections of the audio path together for entirely new sounds [completely unique to the Splice], the Splice brings new meaning to flexibility.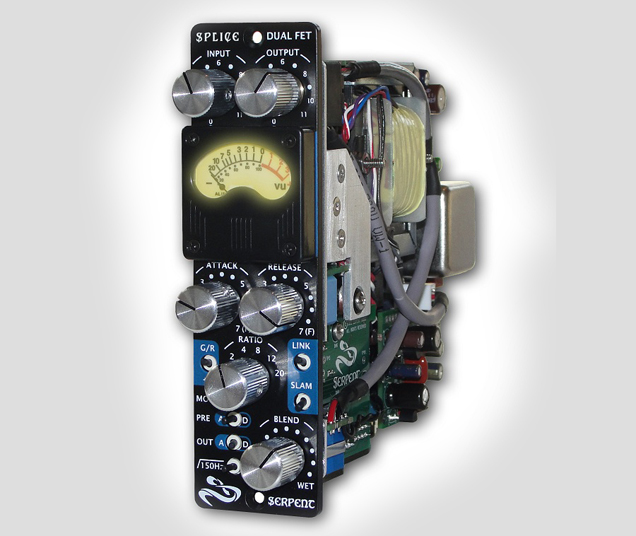 Pro Audio at its finest, The Splice deploys the highest level quality of components, comprising of an all Discrete compressor audio path, a Class A transistor output stage, hand selected transistors, Vintage Sifam VU meter, steel housing construction, and custom wound input/output transformers made specificially for the Splice. Add to that an integrated blend control (for parallel processing), 150Hz Sidechain High Pass Filter, Slam Mode, and integrated stereo link, the Splice is everything you'd expect from a FET compressor and more, allowing for an endless possiblity of sounds and applications.
The Serpent Splice will be available to Demo at AES 2012 in San Franciso [look for us in the Professional Audio Design (PAD) booth]
Units ship January 2013 and will be available as single units as well as factory matched stereo pairs.