If you purchase Komplete Audio 6 you will get the great Guitar Rig 5 Pro software as a free download. This special time-limited offer will be available until December 31 for all customers who purchase the critically acclaimed audio interface. The offer is available at local retailers worldwide and at the NI Online Shop, and represents a saving of $199 / 179 EUR.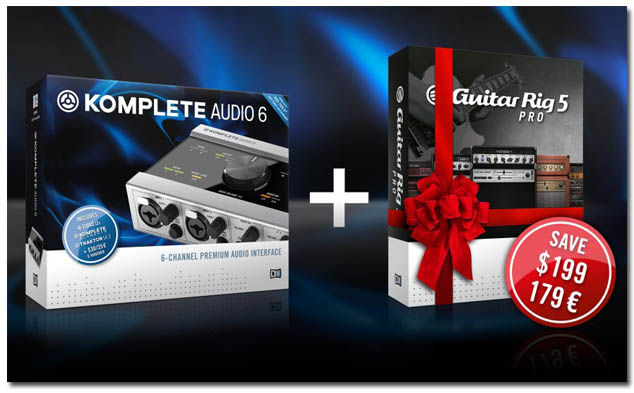 Komplete Audio 6
KOMPLETE AUDIO 6 is a premium 6-channel audio interface with four analog ins/outs, digital in/out, MIDI, and low-latency performance housed in a sleek, rugged metal casing for dependability in all production settings. KOMPLETE AUDIO 6 is bus-powered for portability, and the two balanced microphone inputs are equipped with high-end preamps and 24-bit Cirrus Logic AD/DA converters to ensure its sound quality matches its reliability. The included software suite featuring Cubase LE and KOMPLETE ELEMENTS adds sequencing and synthesis, giving users a complete production package at an outstanding value.
Guitar Rig 5 Pro
With GUITAR RIG 5 PRO free on top, users gain a virtual studio full of creative effects, guitar amps, cabinets, and microphones to shape their tone to perfection. The CONTROL ROOM PRO feature puts users behind a virtual mixing desk, allowing them to select specific cabinets, microphones, and microphone placements and blend them together for truly customized tone. The expansive and diverse range of creative tools opens a powerful world of sonic possibilities for guitarists, producers, and sound designers alike.
Together the bundle contains everything necessary for guitarists, songwriters, and musicians to make studio-quality tracks at an incredible saving.
KOMPLETE AUDIO 6 is available at local retailers worldwide and at the NI Online Shop for $ 249 / 229 EUR. GUITAR RIG 5 PRO is provided as a free download when users register the KOMPLETE ELEMENTS software included with KOMPLETE AUDIO 6.
Additional information on this offer is available at: www.native-instruments.com