At the San Francisco Audio Engineering Society (AES) conference, Simaudio Ltd., a Canadian audio equipment manufacturer focused on home entertainment for the past 30 years, today started shipping their new "Moon 3500MP" Microphone Preamplifier.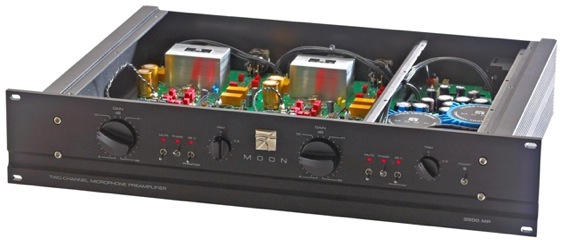 The new 3500MP is a solid-state two-channel mic preamp designed to deliver extreme detail, with an open and neutral sonic transparency, allowing the engineer to showcase the colorizations of their microphone choice instead of the preamp. The 3500MP will be a new reference device for the engineer or studio in their audio recording process. The Moon 3500MP 2-Channel Microphone Preamplifier is shipping at AES, the US suggested retail price is $4499.
Simaudio have signed an exclusive worldwide distribution agreement for a their new Pro Audio product with Audio Plus Services, the distributor for Focal Professional, Lauten Audio and Vovox products in North America. Audio Plus is demonstrating the new mic preamp in their AES booth #837.
Simaudio, located in the greater Montreal area, is well known for its high-end audiophile products; this will be their first endeavor into the Pro Audio market. The Simaudio design team worked with key industry contacts to design their first new Pro Audio product, the Moon 3500MP. A unique aspect to the construction of the new Moon Pro Audio product line is that Simaudio has its own 5-axis CNC (Computer Numerical Control) machine, does its own printed circuit board assembly, faceplate painting and silk-screening, and final assembly – all in-house at their Canadian factory. This gives the Simaudio complete quality-control from start to finish for their new line of Pro Audio products.
"The new Moon 3500MP microphone preamplifier leads our company deeper into studio tools that our customers use," said Simon Cote, Manager of Professional Products at Audio Plus Services. "We already provide monitors, microphones and cable solutions for the professional studio, and now with the new Moon pro audio line we can expand to other areas of audio processing. Simaudio is well known for their audiophile home music equipment, we're confident that the pro audio community will embrace the new reference-quality offerings we have, including the Moon 3500MP."
Highlights of the new 'Moon 3500MP' Microphone Preamp:
* 2 fully independent audio channels, each on separate printed circuit boards.
* AC-coupled and transformerless for increased bandwidth and more accurate sonic reproduction.
* Wide gain range of 8.0 to 66dB with -3.5dB of variable output trim.
* Metal film resistors and polypropylene film capacitors; No electrolytic capacitors in the signal path in non-phantom mode.
* Built-in Power supply using 2 ultra-low noise 'toroidal' transformers (1 for the audio signal circuits; 1 for 48V phantom and control circuitry), housed in an isolated enclosure constructed from satin coated 14-gauge steel, designed to eliminate all traces of AC artifacts.
* Swiss-made 24-position gain potentiometers featuring gold-plated contacts and thin surface-mounted film resistors with 1% tolerances.
For more information on the 'Moon 3500MP' Microphone Preamp Visit: www.moon-professional.com