Roland is proud to announce JUPITER Synth Legends Volume 1, the first in a series of free sound libraries for the JUPITER-80 and JUPITER-50 synthesizers featuring a wealth of authentic vintage sounds from some of the most legendary and iconic instruments in Roland's history.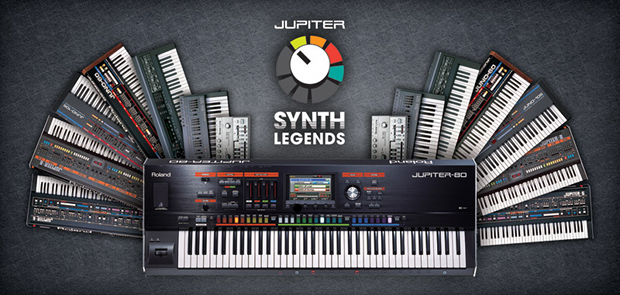 SuperNatural Sounds
The collection uses Roland's powerful and flexible SuperNATURAL synthesizer sound engine to capture the essence of historical Roland synths and showcases all-new Tones, Live Sets, Registrations, and arpeggio patterns. The Live Set architecture and multi-effects of the JUPITERs are fully maximized, giving players a huge selection of "dream" synth combinations comprised of the most legendary synths ever created.
JUPITER Synth Legends Volume 1, the initial release in the series, honors these seven legendary Roland instruments from the 1980s:
• JUPITER-8 (1981)
• JUNO-60 (1982)
• D-50 (1987)
• TB-303 (1982)
• JUPITER-6 (1983)
• SH-101 (1982)
• JUNO-106 (1984)
These classic synths each have between 10 and 20 iconic factory preset sounds that distinguish their character, and they're all represented among 123 newly created single Tones for the JUPITER-80/-50. There are 512 new Live Sets also included that combine the historic synths together using layers and multi-effects processing. Many Live Sets feature single legacy Tones, enhanced with effects unavailable in the original instruments, and nearly 300 new arpeggio patterns are included that are perfect for a wide range of contemporary electronic music genres.
The inspiring sounds made by these classic instruments have helped shape modern music, and now players can access them all inside the JUPITER-80/-50. Future JUPITER Synth Legends volumes will feature the sounds from other sought-after analog classics and spotlight the three vintage LPF types available in the JUPITER-80/-50.
Download the free sound libraries here: www.JUPITER-80.com