The Recording Academy announced today that Dave Smith and Roland Corporation's Ikutaro Kakehashi will receive the 2013 Technical GRAMMY Award for the development of MIDI (Musical Instrument Digital Interface).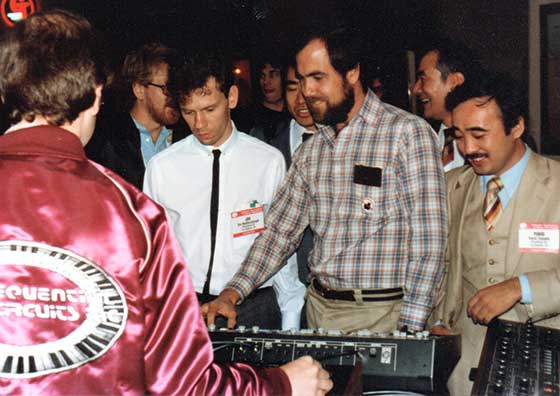 John Bowen (Sequential tour jacket), Roland's Jim Mothersbaugh, Dave, and others breathe a sigh of relief that MIDI actually works at the first public demonstration of the then-new technology at the NAMM show in January of 1983.
The MIDI protocol and interface design were co-developed by Dave and his original company, Sequential Circuits, and Japanese instrument manufacturer, Roland. The first MIDI-equipped synthesizer, the Prophet 600, was designed by Dave and started shipping thirty years ago this month. It was at the NAMM show in January of 1983 that MIDI communication between two instruments from different manufacturers—Sequential's Prophet 600 and Roland's Jupiter 6—was publicly demonstrated for the first time. Congratulations to Dave and Mr. Kakehashi.