Version 1.6 now available. This free upgrade offers great new features such as "Audiobus" for streaming of audio between apps, iCloud backup, Retina display support, and Virtual MIDI for MIDI communication between iOS music creation apps. Also includes a Korg's new Beat Flutter mode, which allows you to vary patterns in real time and at random for further creative inspiration!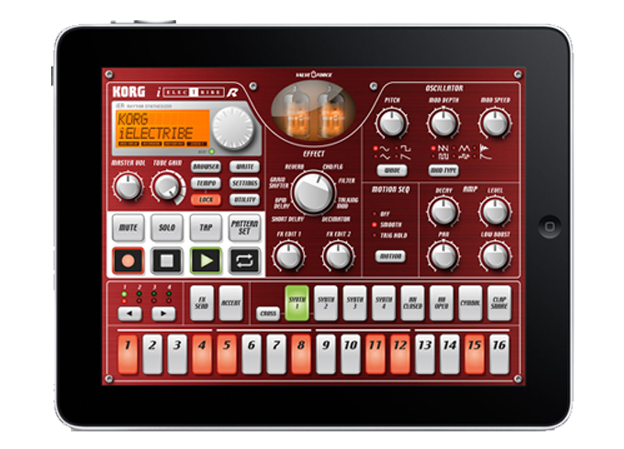 KORG's first dedicated iPad musical instrument app!
For over a decade, Korg's Electribe•R has been go-to gear for creative musicians from around the world and across multiple electronic and dance music genres. Now, you can take the power of the Electribe•R with you thanks to iElectribe, Korg's first dedicated app; bringing the fun of analog-synth style beat making to your iPad. Best of all, the iElectribe takes full advantage of iPad's 9.7 inch multi touch display to deliver a new style of musical instrument.
The popular Korg iElectribe App for iPad keeps getting better! The Korg iElectribe Version 1.5 is available for download at Apple's App Store (iTunes Store).
What's New in Version 1.6.0
• Retina Display support
• Background Audio support allows to play other music apps
• iCloud data backup
• "Audiobus" enables audio streaming between iOS Musical Instrument Apps
• Virtual MIDI enables MIDI communication between iOS Musical Instrument Apps
• A new function "Beat Flutter" has been added to allow you to vary rhythm patterns real timely and randomly for live performance by stroking pad.
• A few bugs have also been addressed, improving operational operational stability.
Update through the "Updates" section of the AppStore app or click here to view the product page.