Behringer announced the release of its much-anticipated CMD DJ controllers and an alliance with Image Line, the company behind such acclaimed producer software as Fruity Loops and Deckadance. The full-featured set of MIDI controllers consists of the CMD MM-1 Mixer Module, CMD DV-1 Digital Vinyl Control Module, LC-1 Live Control Module, CMD PL-1 Platter Control Module and the CMD DC-1 Drum Control, all of which will now come with IMAGE LINE's Deckadance Software.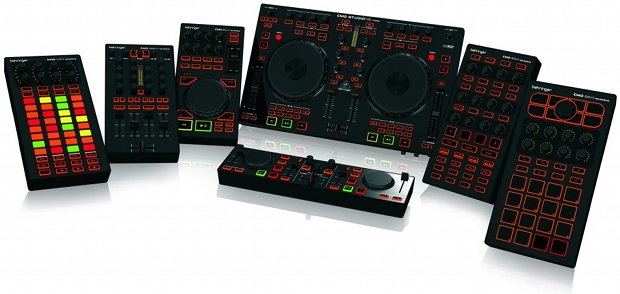 Professional features such as high quality faders, extensive MIDI feedback, and rotary encoders with bright LED indicator rings are organized into a logical layout on each device ensuring a highly ergonomic performance experience. Additionally, all CMD controllers are class-compliant so the artist can simply plug and play without the need for additional drivers. While all individual CMD components work well as rugged, portable stand-alone controllers for most popular DJ and production software programs, the series is designed to easily connect multiple controller configurations.
The new Deckadance software application provides all features that DJs need to move the dance floor. It features up to 4 software decks, allowing performers to mix different sources to energizing tracks. Smartknobs link a single knob to any number of FX and Mixer interface parameters, while the GrossBeat function in Deckadance provides 8 user adjustable FX per deck, including programmable and automated glitch, stutter and scratch functions. Additionally, Deckadance includes effects, a sampler, plus up to 8 smart panels for user configurable Loop, Cue, Grid, DVS, Key, Smart Knob and Tempo panels. The software hosts VST plugins and can act as a VST plugin in any DAW production environment.
"I am extremely excited by the prospect of working with Image Line and bundling our CMD controllers with the new Deckadance software," stated Craig Reeves, DJ Product Manager at BEHRINGER, who continued, "The new GrossBeat and Smart Knob functionality is unique in the market, and the move to 4 decks makes Deckadance the perfect software package for modular controllers like our CMD line."