BEHRINGER has launched the NEKKST K5 and K8 next-generation, high-resolution near-field monitors developed by renowned monitor designer and founder of KRK, Keith R. Klawitter. An array of innovations, including a patent-pending means of switching between studio tunings, as well as ultra-linear DSP correction, multiple analog and digital inputs, iOS and Bluetooth™ connectivity are included. Both models come with ultra-high-resolution 1″ silk dome tweeters and long-throw glass fiber cone woofers; 8″ and 5″ respectively.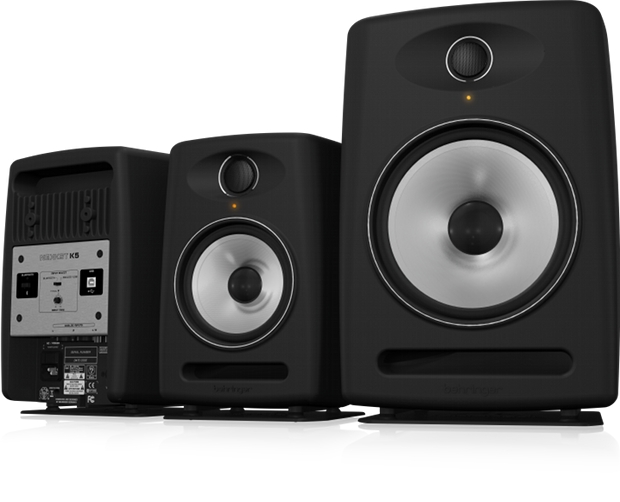 "Our primary consideration was acoustic perfection, and we knew that with Keith Klawitter leading the project we were going to nail that objective," commented Costa Lakoumentas, SVP Marketing for BEHRINGER parent company MUSIC Group, "but we also wanted to make NEKKST monitors more relevant to users who own them, so we added Studio-vibe tunings and topped it all off with BluetoothT connectivity so you can stream your personal playlist to the speakers after you're done recording."
Connectivity for a wide variety of digital sources is easily accomplished via the onboard USB input. Analog inputs feature XLR, TRS and RCA connectors-and can be used simultaneously with the USB source. Both monitors feature Bluetooth connectivity for streaming audio from a Bluetooth-enabled device. A "Planet Earth" power supply provides noise-free audio with superior transient response, plus efficient power conservation worldwide. A truly-innovative iOS APP allows the user to adjust the K8/K5's acoustic characteristics right from their seat in the "sweet spot" via iPhone or iPad. In addition, users can download models of iconic studio monitors, as well as listening environments that replicate EQ curves of world-class producers and artists for stunningly professional results.