Pyle, manufacturers of home, car and pro audio equipment, unveils its latest in turntable innovation with the Retro Belt-Drive Turntable (PVTT2U). This classic briefcase-styled USB turntable is designed with form and function in mind. The sleek and stream-lined fold-away unit is portable and made with two built-in anti-magnetic speakers. Updated with cutting edge technology combined with nostalgic design, the PVTT2U offers the ultimate fusion of sound and style.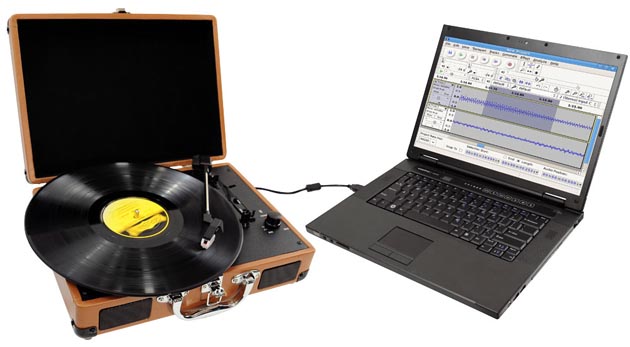 Briefcase-Style Retro Belt-Drive Turntable
Not only can you play your favorite vinyl records, but you can also connect to your PC directly via USB port, allowing for easy conversion of classic vinyl's to MP3s. The PVTT2U comes with everything you need to get connected and edit your music collection, all starting with a simple plug in. Take advantage of all the PVTT2U's features by editing actual music files and creating playlists for any occasion with the included
software. Combine the best of digital and analog technologies when you turn your bulky stack of vinyl records into a compact digital music library.
The PVTT2U delivers high quality performance for every audio need imaginable, including wireless playing capability. The rechargeable battery and briefcase-style allows for music on-the-go, making the PVTT2U ready when you are! Charge the turntable by connecting to your computer via the USB cable or by plugging into a wall outlet using the included AC-USB adapter.
This unique turntable will fill any room with incredible audio and can even provide your home theater system with a richer sound by connecting to the RCA line. This modern musical powerhouse arranged into an elegant vintage package will take care of all your music needs at home or on the go.
"We pride ourselves on providing the most unique music technologies. We found a way to reach our retro lovers and bring them to the best of the modern age and technology that the music world has to offer," says Abe Brach president of Pyle Audio.
Pyle's Retro Belt-Drive Turntable Features Include:
• Three Turntable Speeds: 33, 45, 78 RPM
• Belt-Driven Automatic Turntable
• Ceramic Stereo Cartridge
• 45 RPM Adapter
• Two Built-in Stereo Anti-Magnetic Speakers
• USB Port For Connection to PC to Convert Vinyl to MP3
• Stereo RCA Output
• Rechargeable Battery
• Free Audacity Software Included For Vinyl-to-MP3 Conversion
• Dimensions: 10.63" x 13.78" x 4.33"
The Retro Belt-Drive Turntable (PVTT2U) is available at www.pyleaudio.com and retails for $188.99.