The Beyerdynamic CUSTOM Series is one-of-a-kind, as it allows you to redesign and re-engineer your headphones at any time, making them the perfect match for whatever the situation or your mood demands. This is truly a product for the new headphone 2.0 generation.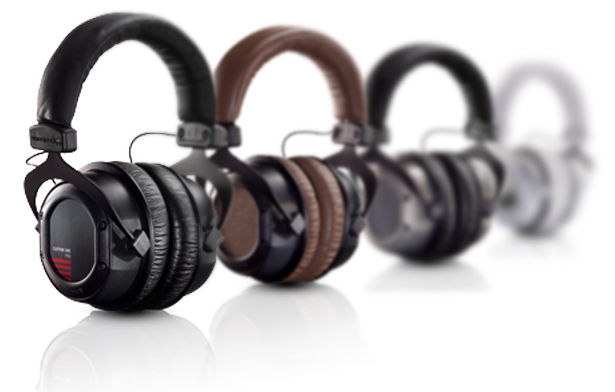 Custom One Pro
An all-in-one solution for any desired acoustic scenario, the versatile new headphones feature Beyerdynamic's specially designed CUSTOM Sound Slider, which allows the user to switch the audio mix of their music between 4 completely unique mix profiles. The mix profiles range from a more analytical sound to the contemporary "heavy bass" sound, and can be quickly adjusted according to the listener's taste or to the music style. The headphone is expertly engineered with a closed, variable noise reduction design that creates isolated sound and cuts out ambient noise without the need for batteries.
The German-handcrafted CUSTOM ONE PRO headphone also sports a number of high-end style features such as fully customizable, changeable style plates that lock into the outer part of the ear cups. Users can go online at beyerdynamic.com to choose from hundreds of style plate designs and find the perfect combination to suit their personal style. Additionally, the headband and ear cup pads are available for purchase in different colors according to taste and preference. Moveable yokes and a sturdy spring-steel adjustable headband allow for a snug fit, and high quality, durable pads create longwearing comfort without fatigue. The headphone comes with a single-sided cable featuring a gold-plated mini stereo jack plug (3.5mm) and a 1/4″ (6.35mm) adaptor, and can be customized to different desired lengths and applications ranging from studio use to gaming (available for separate purchase).
FEATURES
CUSTOM Sound Slider- a variable bass reflex system featuring 4 distinct audio mixes
Closed headphone with variable noise reduction
Versatile design with replaceable and customizable ear plate accessories
High efficiency due to 16-Ohm drivers
Rugged headband made of spring steel
Single-sided, plug-in type connecting cable
Soft, replaceable and customizable ear and headband pads
Gold-plated mini stereo jack plug (3.5 mm) & 1/4″ adapter (6.35 mm)
Compatible with smart phones and most tablet devices
Custom Pro One is priced at 199 Euro.