Radial Engineering Ltd. is pleased to announce the StageBug SB-2 Passive a super compact direct box designed for the traveling musician who wants big sound in a small package.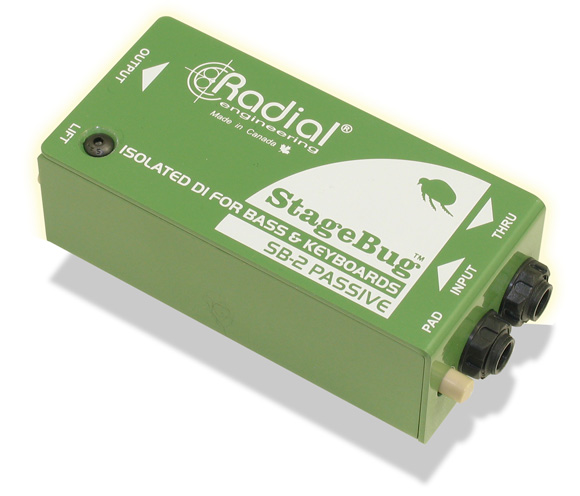 According to Radial Engineering Western Regional Sales Manager Mark Gummer:
"We have noticed a trend whereby musicians are looking for ways to reduce the size of their payload when traveling from gig to gig. This is happening both regionally when traveling on a tour bus and nationally when traveling by commercial airliner. In both cases, the attempt to downsize results in lower fuel costs, lower baggage handling costs and ultimately the reduction in size improves efficiencies all around. But as always, musicians want it all. They want smaller, but do not want to compromise on quality. The new StageBugs deliver big sound in a small way! And the response we have had so far has been terrific!"
Measuring less than 2″ wide and 3.5″ deep, the compact StageBug SB-2 begins with a 1/4″ instrument input and thru-put to feed the on-stage amp. This connects to the custom made Eclipse ET-DB3 transformer which performs the impedance matching and balances the signal. When using extra high output instruments, a -15dB pad can be inserted into the signal path. This enables the StageBug SB-2 to be used with active basses and digital pianos that often tend to overload the input side of most interfaces. The StageBug SB-2 output features an XLR wired to the AES standard with pin-2 hot.
A 180°polarity reverse switch toggles pin-2 and pin-3 to adapt to older vintage gear that may be out of phase. This can also be used to tame acoustic hot spots on stage by electronically moving phase bumps so that they do not cause feedback. Once connected, the StageBug SB-2 delivers a smooth warm sound reminiscent of older vintage gear. Transformers are magical in their ability to handle extreme signals with a natural compression that is pleasing to the ears. Transformers also help eliminate troublesome ground loops by isolating the input from the output.
These features make the StageBug SB-2 a great choice for electric bass, acoustic guitar and keyboards where small size and big performance matters!
Estimated shipping date: March 2013