Veldberg XD is new virtual analog synthesizer based on algorithms from hardware VA synthesizers. Veldberg XD offers cold heavy and ultra sharp sound with analog sounding liquid filters and hard oscillators.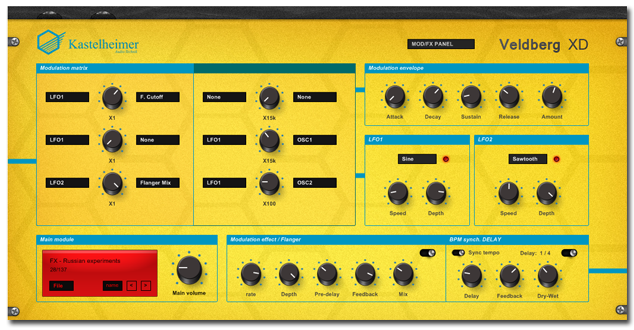 Wide sound possibilities
From classic massive analog to experimental and innovative digital sounds. Thanks to 3 oscillators (every oscillator has more than 28 waveforms), 8 filters, 3 envelopes, 2 LFOs and Modulation matrix Veldberg XD offer wide range of various sound styles for almost every music production.
If you are looking for innovative sound, Veldberg has various new features and technologies as:
– OSC signal routing / mixing in various modes: (Standard, Synchronizer, Hernsht1, Hernsht 2, RingMod,)
– HyperTWIST technology – for experimental/FX sounds
– Klangcharakter – If turned off, synthesizer sound similar to basic soft synthesizers (thin, basic / weak sound)
if turned ON expect heavy, bass, massive hardware/analog sound on low frequencies and sharp / brilliant / strong sound on high frequencies.
Veldberg XD was made in cooperation between German engineers from Kastelheimer and developers from G-Sonique digital instruments, SR, European Union.
Unique character
Veldberg is synthesizer that will surprise you with unique character of sound, intensity of sound on bass and treble frequencies (sound that will be always significant in mix) wide sound creation possibilities and new technologies/algorithms. Veldberg XD comes with 137 various presets in various styles like: BASS, FX, LEAD, ARP, and PSY (Psytrance).