AKG is showing off two new headphones for studio use at this year's Musik Messe. The K612 PRO are High-Performance Studio Headphones, and its bigger brother the K712 Pro are Reference Studio Headphones.
K612 PRO – High-Performance Studio Headphones
K612 PRO headphones are high-performance open, over-ear phones that deliver natural sound imaging for professional monitoring. The advanced open technology offers comfort for long working sessions and a full, spacious sound. AKG's patented Varimotion™ diaphragm technology completes the unique sound of the K612 PRO.
Obvious features such as the self-adjusting real leather headband, aluminum arches and solid rivets not only provide a lightweight, maximum comfort fit, but also reinforce the quality AKG has provided to studio engineers for decades.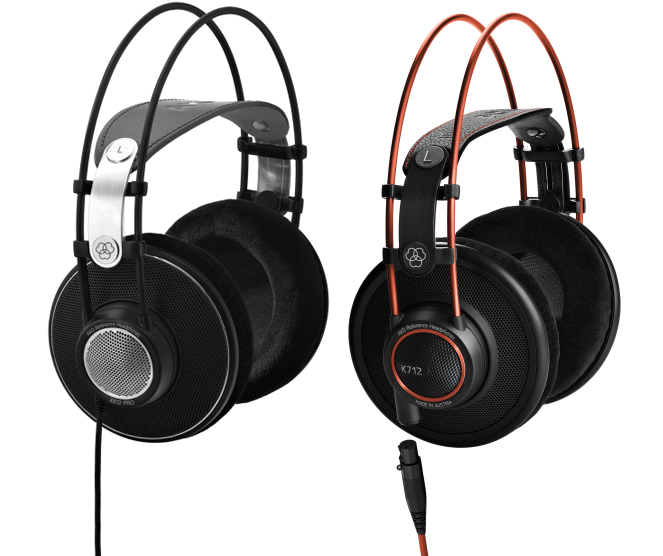 K712 Pro – Reference Studio Headphones
The K712 PROs are reference, open, over-ear headphones for precise listening, mixing and mastering. The over-ear design guarantees maximum wearing comfort for fatigue-free mixing and mastering, while providing spacious and airy sound without any compromise. Their precise powerful sound results from improved low-end performance by 3dB. Being hand-crafted in Austria, the K712 PROs represent the high quality and legendary design AKG is known for.
These headphones have a genuine soft leather headband for a lightweight and comfortable fit. Their carefully selected transducers provide consistency and accurate localization. The K712 PROs come with a professional mini XLR connector for quick replacement of the cable. Also included is an additional coiled cable and a premium carrying bag.