Pictures of these new mini instruments were floating on the internet for days already. And we just got confirmation (thanks to CDM) that these puppies are real. Korg have already listed them on their website. This new Volca range of products are following in the footsteps of the monotron, monotribe, and MS-20 Mini analog synthesizers.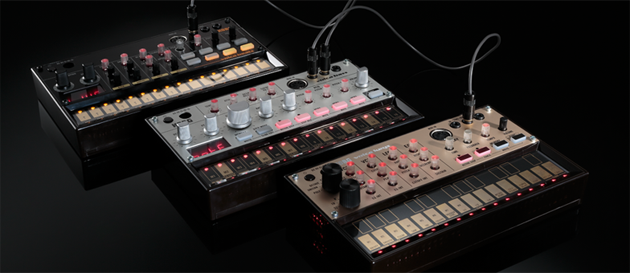 Volca is a new lineup of EDM production tools comprised of three distinct models: the volca Keys lead synthesizer, the volca Bass synthesizer, and the volca Beats rhythm machine. These powerful and fun-to-use true-analog devices deliver a diverse array of fat sounds that can be obtained only from an analog synthesizer. Each is also equipped with sequencing/recording capabilities for intuitively generating performances. Multiple volcas can be used in tandem via the vintage-style sync in/out, and with your favorite DAW software or MIDI keyboard via MIDI In. Battery operation and built-in speakers mean that you can conveniently play anywhere and anytime. These are the next-generation analog synthesizers, bringing you the ultimate sounds and grooves with ease and depth. Whether used together or by themselves, the volca series is poised to inject true analog power into any performance or studio setup!
Volca Keys
Volca Keys is a long-awaited synthesizer that adds a new chapter to the long and storied history of Korg's analog synthesizers. This 27-key analog lead synth delivers unbelievably powerful sound in a compact body. Starting with a filter section that uses the circuitry of the legendary miniKORG700S (1974), it delivers astonishing sound that takes full advantage of Korg's half-century of know-how in circuit design.
With a simple structure that includes delay effect and a sequencer, it's also an ideal choice for a first analog synth. It offers the richly expressive sounds that are distinctive of analog, providing the enjoyment of simple yet deep sound-creation. The possibilities are endless; you can use the three oscillators to play chords, use them in unison with detune to produce solid lead lines, or apply ring modulation to create far-out metallic sounds.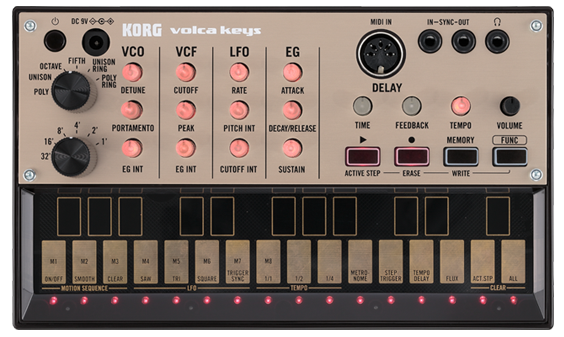 Volca Bass
Aggressive sounds that stand up to the drums; fat sounds that support the rhythm; funky sounds that generate a groove – the volca Bass is an analog groove box that has what you need for a wide range of bass lines.
Although simple in structure, the analog sound engine has an unmistakable presence with subtle nuances that cannot be reproduced by a digital simulation; it's a great choice for acid house and many other styles of music. The step sequencer distilled from the Electribe is not only visually intuitive; it's also a powerful way to generate "free form" bass loops that will stimulate your inspiration.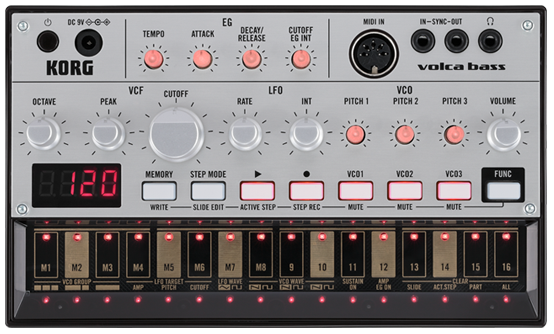 Volca Beats
Even today, more than thirty years after the age dominated by analog synthesizers, we just can't let go of the sound of analog rhythm machines. Those thick sounds have the power to stand up to guitar and acoustic drums, and are still indispensable for track-making or live performance. The volca Beats gives you those analog drums plus the easy-to-use step sequencer of the Electribe; it lets you turn your inspiration into reality and generate beats with the best high quality sounds.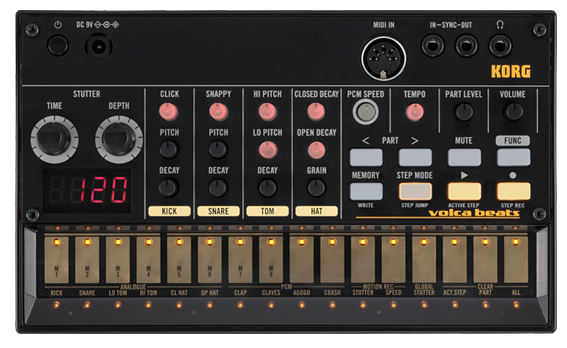 The Volca range will be available July and priced at around 150 dollars (US market). For more details please check the Korg website.