Producertech are proud to announce the release of a new course on Native Instrument's Maschine, which takes you through every aspect of the powerful groove production studio. The Complete Guide is a 5-hour series of tutorials, which explores all of the main stages of making music with Maschine, covering numerous production techniques in various different styles of music along the way. The lessons are delivered via streamed movies, with accompanying written notes, Maschine projects and additional Loopmasters samples.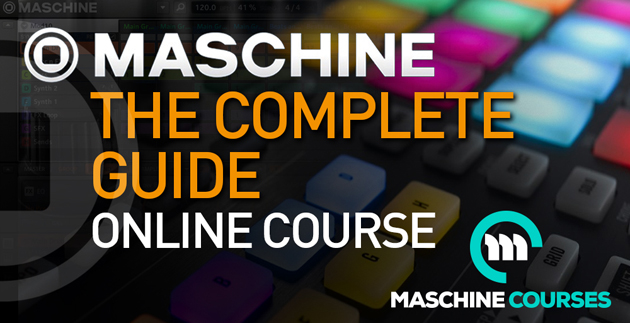 Module Details
In the first few modules on the course, Producertech's Rob Jones comprehensively explains the basic architecture and functionality of Maschine, showing how to create various grooves using combinations of sounds and groups in the pattern section. Beats are played live and edited, as well as programmed using step and velocity modes. Editing is also carried out in the software and hardware, where a combination of the two is shown to achieve an ultra fast and efficient workflow.
After the remaining sections have been taught, including 2 lessons on effects processing, showing not only how effects are added but the ways in which they can be used to improve your mix, there is a 2-part lesson that shows how to make an entire house track from scratch. This lengthy lesson is also available as a mini house production course by itself on Music-Courses.com, where both courses are currently hosted. For anyone who purchases the house production course and then wants to sign up to the complete guide afterwards, a discount code can be obtained from Producertech to lower the price.
Once signed up to the course, students can log in to the Music Courses site at any time to follow the course, which is delivered as streamed movies directly to your computer, tablet or smart phone. In addition, there are written notes provided, as well as the Maschine projects created in each of the lessons, so there is the opportunity to more closely inspect what's demonstrated and therefore fully absorb each technique. The downloadable course pack also contains a bonus pack of royalty-free Loopmasters samples for using with Maschine, worth over £25.
Just weeks after the release of the course, the series was expanded with an extra bonus tutorial that clearly demonstrates how to integrate Maschine with Logic Pro, an area that students of the course had asked questions about. Through this expansion, Producertech have demonstrated their dedication to student support, investing time and effort into fulfilling their promises and ensuring that their community receives the highest standard of education possible. This interaction is further enhanced by the ability to directly contact tutors via email or the Producertech forum, where there is a growing number of students and music enthusiasts, discussing issues and getting feedback on their music.
For more information about the course, visit the course page, where there's a full breakdown of the lessons, an information pack containing full details of the course aims and structure, as well as FAQs. Also, once signed up, the first lesson from the course can be viewed free of charge, to see an example of the teaching style and lesson format visit the Music-Courses website.