Drummer Thomas Holmen is a very busy guy. As guardian of the groove for Danish pop-rock sensations Infernal, Holmen spends his days on the road, cranking a powerful backbeat for one of Denmark's most popular bands.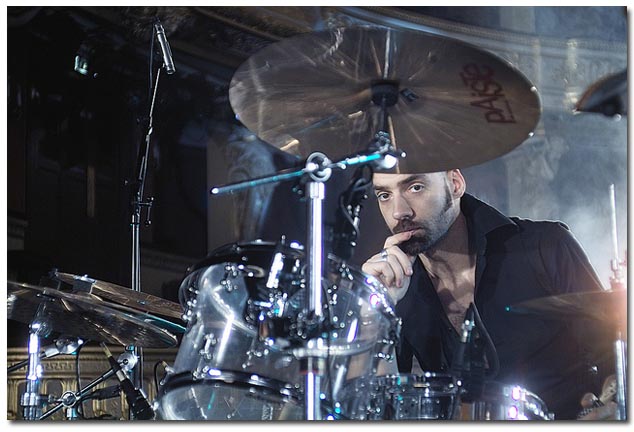 "Infernal is a very popular live act because of the energy and the performance, and the mix between acoustic and electronic sounds," says Holmen. "We play almost every festival in Denmark during the summer months, as well as gigs in Germany, Poland, UK, and other parts of Scandinavia. We do some club gigs in Italy and France, and we're shooting videos in Paris, New York, and Miami."
Of course, Holmen doesn't sit idle between tours – he stays busy on other projects ("I played a tour last summer with DJ Kato, who is one of Denmark's most well-known DJs and recently did some tracks with Snoop Dogg.") and maintains a full schedule of students and drum clinics across Denmark.
"I use Studio One and the AudioBox 44VSL for recording the stuff I use in my clinics, and for my private students," Holmen explains. "I love showing the students my setup – they are always so amazed at how simple it is, and what kind of power and great sound I get from something so small."
Holmen's work integrates both live drums and percussion and loops, and that's another aspect where his PreSonus setup really shines. "Before I do a track for a clinic, I always record my drums in my practice studio and do a mix, so I can get a good idea of how it will work and sound when I perform," he explains. "It's amazing how quickly and easily I can turn an acoustic drum set, recorded with only three microphones, into a powerful, great sounding track."
And Studio One's sounds are more than enough for building up tracks as well, he observes. "The sounds in Studio One are fantastic, and the effects are very powerful. I can easily mix in loops from Studio One's Soundsets, and I use a lot of the bass and keyboard loops for my clinic tracks."
In his travels as a musician and as an educator, Holmen makes it a point to spread the word about PreSonus gear. "I love showing people my setup, and seeing their reaction," he says. "It's always great to see the reactions when people see what I can accomplish with just Studio One and my AudioBox 44VSL."