Yamaha introduces the second generation of its HS Series powered studio monitors, building on the success of its legendary predecessors. The new lineup adds a 6.5″ full-range speaker, bringing more depth and flexibility to the series, making it easier to select the ideal monitor for an even wider variety of applications. By combining Yamaha's acquired knowledge and expertise in studio monitor design with advanced sound analysis technologies, the HS Series provides stunning accuracy and exceptionally flat response ideal for nearfield monitoring.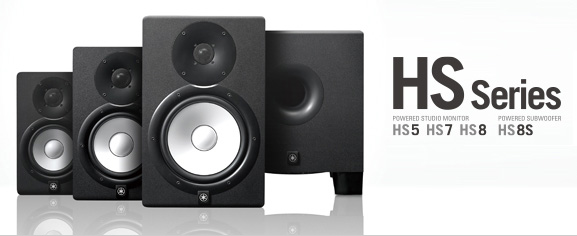 HS Series Powered Studio Monitors
The new series is comprised of the 5" HS5, the new 6.5" HS7, the 8" HS8 as well as the HS8S subwoofer. These monitors come equipped with newly developed transducers featuring an advanced magnetic field design that regulates the flow of magnetic response to provide natural, seamless sonic transitions. Each component's materials and design were carefully re-examined, then optimized, to significantly improve the accuracy of signal reproduction throughout the audio spectrum. All HS Series full-range models are 2-way bass-reflex bi-amplified and feature a new high-resolution 1" dome tweeter designed for extended high frequency response with very low distortion up to 30kHz. Also equipped with a newly designed, high power woofer, HS Series monitors deliver clearly defined bass even at the highest output levels. Featuring amplifier units that are perfectly matched to each model's dedicated transducer, these monitors deliver accurate frequency response across a wider range of bandwidth.
HS Series enclosures are constructed from a dense and resilient MDF material with a damped acoustic response that is perfectly suited for reference monitors. Drawing from Yamaha's over 100 years of piano design experience, HS Series engineers also employed a traditional three-way mitered-joint technique that firmly anchors the corners of the enclosure to dramatically improve durability and eliminate unwanted resonance.
By adopting an advanced noise reduction technology that incorporates a thorough analysis of a visual representation of the sound, Yamaha's engineers are able to reduce unwanted noise caused by a vortex that generates air vibrations inside the port. Through this in-depth analysis we have arrived at the ideal port design, resulting in a reduction of audible noise up to 6dB.
HS Series full-range models feature two frequency response controls, HIGH TRIM and ROOM CONTROL, that allow them to adapt to the surface acoustics of rooms of varying shape and size. For inputs, HS Series full-range speakers feature XLR and TRS phone jacks that can accommodate a variety of balanced and unbalanced input sources. HS8S subwoofers come equipped with a HIGH CUT control, PHASE switch, LOW CUT control and LOW CUT switch adding flexibility for easy system optimization. These subwoofers also feature XLR and TRS phone jack inputs and for outputs XLR for L and R and EXT SUB out.
"Following in the tradition of our very successful predecessors, the second generation of HS Series monitors was designed to provide stunning accuracy that is ideal for nearfield monitoring" said Kazunori Kobayashi, General Manager of Yamaha Pro Audio Division. "With an additional 6.5" full-range model and optimized performance throughout the series, we are pleased to accommodate an ever wider range of applications and meet the requirements of professional recording environments."