Analogica is a fat and smooth analog sounding filter ensemble for Native Instruments Reaktor. It offers a distinctive character, sweet and beautiful self oscillation sound, flexible design and an intuitive interface. Analogica enables you to fulfill any filtering mission with ease. It is not only perfectly suitable for elementary filtering tasks, but also capable of producing beautiful raw distortion sounds, interesting rhythmic patterns and unusual musical effects.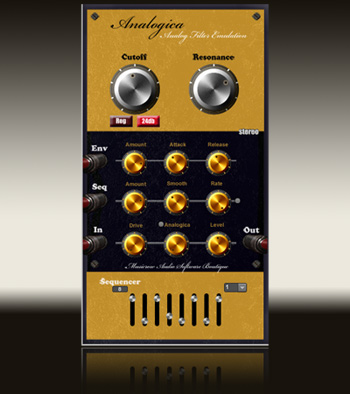 Make it hot!
Turn on the Ring Modulator and let it scream, produce a crunchy distorted sound using the Drive control, or turn (slowly) the special Analogica control for extreme results!
Add groove!
Make your sound move with the groove! The Envelope Follower will let you modulate the filter cutoff depending on the incoming signal level, and the Sequencer will add movement and excitement to your sound.
Turn up the resonance!
This filter can sing! By turning the resonance all the way up, you will get the sweet analog self oscillation sound the makes all the difference. No more ugly digital artifacts for you…
Intuitive, creative, flexible and full of analog juice: Analogica will soon become your 'go to' filter!
Main Features
– Warm analog filter sound
– Intuitive and flexible design
– Built for real time playing
– Beautiful self oscillation sound
– Two different types of low-pass filters
– 12/24 db/oct slopes
– Ring modulation
– Envelope follower
– 8 step sequencer
– Crunchy drive control
– The analogica effect for extreme results
– High-pass filter at the output stage