International dance music advocacy organisation the Association for Electronic Music (AFEM) this week announced that electronic music pioneer Jean Michel Jarre has been appointed an Ambassador for the group.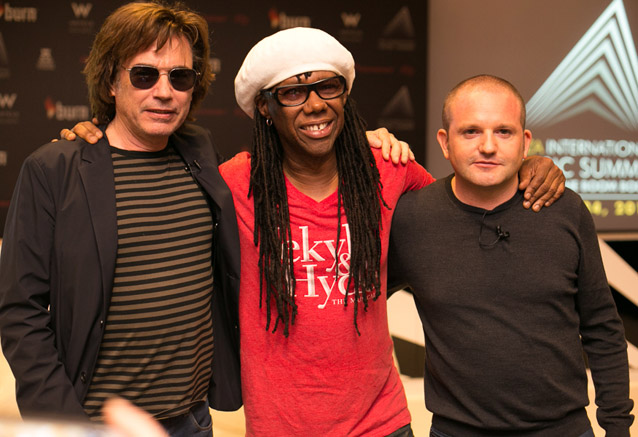 Jarre's decision to throw his weight behind AFEM was announced at the International Music Summit – dubbed the "TED of music conferences" – in Ibiza this week. He said, "My music is electronic and I believe passionately in progressing the genre forwards and protecting the rights of the people who work within it. I am impressed by the creation of the AFEM and that there is a strong group of likeminded people who wish to ensure its legacy is promoted and its future directed in the right way. It's an honour to be a part of this."
Joining Nile Rodgers
Jarre is the second influential artist to be named an AFEM Ambassador. At the Association's launch in January, Nile Rodgers – a producer of this week's worldwide Number One album, Daft Punk's Random Access Memories – became AFEM's first Ambassador.
AFEM co-founder Ben Turner said, "We are honoured that Jean Michel Jarre has agreed to join us as Ambassador. There is a direct line between his ground-breaking work 30 years ago and todays's live electronic live shows. Jean Michel Jarre is a musical legend, but he is also an articulate and passionate spokesman for the power of electronic music. He's a change agent of the highest order."
Jean Michel Jarre
He first established himself in the French avant-garde before his international breakthrough with the the 12m-selling album Oxygene in 1976. He followed this in 1978 with Équinoxe, and in 1979 Jarre performed to a record-breaking audience of more than a million people at Paris's Place de la Concorde, a record he has since broken three times. He is estimated to have sold more than 60m records worldwide.
Jean Michel Jarre is a UNESCO spokesman, particularly focusing on two key UN projects "Water for Life" and "Education for all". He has been honoured around the world and has been inducted as an Officier de la Légion d'Honneur in his native France.
Said Turner, "Like Nile Rodgers, Jean Michael Jarre speaks with the authority of a pioneering artist who is absolutely committed to electronic music. Our Ambassadors will play a key role in taking the message of AFEM to the wider world."
AFEM
The Association for Electronic Music launched in January 2013 as a not-for-profit grassroots dance music industry lobbying group. Early this week it revealed its 51-strong international advisory board which spans 15 countries with representatives of every sector of the dance music business from labels to promoters to managers, and includes noted executives such as Patrick Moxey (Sony Music), David Levy (WME) and James Barton (Live Nation).
The coordinators of AFEM are Turner, a partner in the International Music Summit, and entertainment industry lawyer Kurosh Nasseri, who has specialized in the electronic music genre for 20 years, and whose clients include Afrojack, Basto, Deep Dish, Lazy Jay and Paul van Dyk.
Membership of AFEM is open to all companies and individuals whose business is mainly in electronic music. An announcement is due shortly on the full membership packages.
For more information about AFEM, visit www.associationforelectronicmusic.org
Photo – Jean Michel Jarre, Nile Rodgers and Ben Turner