Barefoot Sound is proud to introduce the second generation MicroMain27 and MicroMain35. Now featuring our amazing Speaker Emulation technology, both speakers precisely model the essential response and translation characteristics of other classic studio monitors, simply with turn of a knob. If this weren't enough, the renowned MM27 adn MM35 are augmented with advanced new electronics and drivers giving it even greater dimension and transparency across the entire audio spectrum.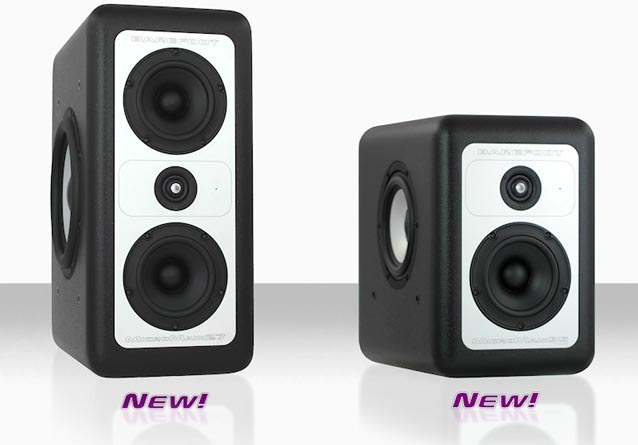 "While the original MicroMain27 and MicroMain35 were taking the industry by storm, I never stopped developing new technology in the effort to take them to the next level. The result is the MM27 and MM35 Gen2, which deliver the translation, neutrality, form factor, and all-in-one functionality that attracted renowned and gifted artists, engineers and producers in the first place. But, the Gen2's separate themselves from their predecessors in significant ways," says Thomas Barefoot.
New speaker emulation technology offers 4-in-1 referencing
In addition to its pristine standard voicing, the Gen2 harnesses a powerful new DSP engine to bring you the voicing characteristics and responses of classic studio nearfield monitors. You can use the four-position wired remote to quickly switch through different voices, allowing you to preview your mix on different types of speakers, without having the clutter of multiple speaker systems. The four settings are "Old School," "Cube," "Hi-Fi," and "Flat." The "Old School" setting captures the essence of the ubiquitous NS10M, rolling off the sub-bass and top-end information, and bringing forward mid-range presence. The "Cube" setting is a nod to the "aura" of the classic full-range micro monitors of yesteryear, a valuable setting in the age of laptops, tablets, and earbuds. "Hi-Fi" sweetens the high end and warms mid-range and fattens the lows to behave much like consumer hi-fi and car audio systems, the perfect setting for quick artist playback or when listening to your favorite tracks in the studio. Last, as you might expect, "Flat" is the prized default setting, offering the true, revealing Barefoot Sound.
Integrated dual subwoofer design supports clean upper bass and mids
Part of the magic that makes the MicroMain Gen2 work so well is that, like its predecessor, it offers integrated dual subwoofers. Working alongside the updated 1″ ring radiator tweeter and 5.25″ midbass drivers, all with advanced neodymium motors, the Gen's two subs are housed in compact sealed enclosures, yielding stable LF control and excellent impulse response. Because the sub motor structures are locked together, the opposing forces cancel each other out, keeping the Gen2 steady even at roaring output levels. Even more importantly, the integrated sub design takes the pressure off the mid-bass drivers, resulting in a dramatically cleaned-up upper bass and midrange.
Mored details here.