The EHX 8 Step Program plugs into the expression pedal or CV input of other effects pedals and synthesizers delivering rhythmic sequencer control. With eight independent sliders, each controlling a sequence step, it can turn an ordinary auto-wah into a step filter, a tremolo into a syncopated pulse effect and a pitch-shifter into an arpeggiator.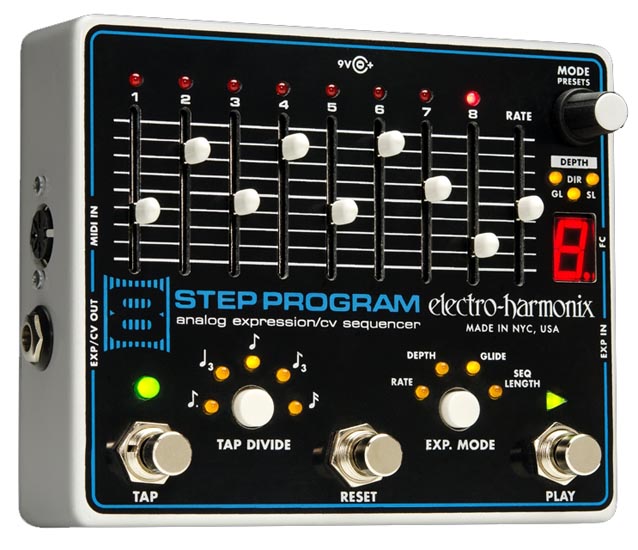 Tweaker's delight
ttention freaks and geeks, this baby connects to another device and delivers sequencer control over parameters that respond to expression pedals or CV generators like oscillators, filters, delay parameters you name it. Set your tempo with the Rate slider or Tap Tempo footswitch, or sync to a drum machine via MIDI clock. Five Tap Tempo Divide modes provide rhythmic diversity. This thing is a tweaker's delight! You can add the optional 8 Step Program Foot Controller expands that to 100 presets!
This eye-popping video, shot less than a mile from EHX headquarters at Carousel Studios in Greenpoint, Brooklyn, provides a peak into the sound sculpting power of the new 8 Step Program!