Radial Engineering is pleased to announce the PreMax channel strip, a combination preamp and 3-band equalizer module for the popular 500 series format.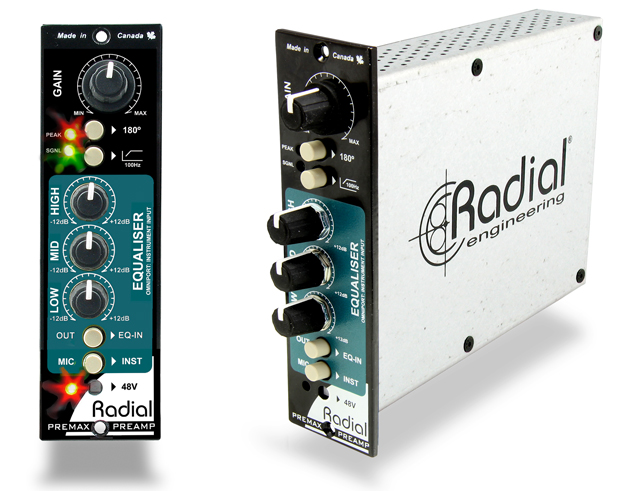 According to Radial Sales Manager Roc Bubel: "When we started building 500 series products our primary goal was to solidify the standard so that we would create a bunch of useful modules. We started with the Workhorse and mixer, a preamp, compressor and a Reamper. We now offer close to 20 different modules, each of which address a different market niche or price point. The latest in our series is the PreMax. This is designed to bring greater density and affordability to the 500 series format by combining a preamp and EQ into a single space module. And at a retail of $350, we are confident that the PreMax will provide certain segments of the market with the performance and price point to suit their needs."
The PreMax begins with a low-noise Op-Amp input coupled with Radial's unique Accustate gain control that simultaneously sets the input sensitivity and signal gain to deliver ultra-quiet performance at all levels. Visual monitoring is supported with LEDS for signal and overload. The preamp then feeds a traditional 3 band shelving EQ for tone shaping. A front panel switch enables the user to bypass the EQ to compare the pre-post effect. This is augmented with a high-pass filter to eliminate low-end resonance that can cause a recorded track to sound muddy. A 180°polarity reverse works double duty to either help align stereo mic placement or to help tame acoustic hot spots when using the PreMax in a live stage setting. For safety, the 48V phantom power switch is recessed to prevent accidental turn-on which could damage tweeters or vintage ribbon microphones. When used with a Radial Workhorse power rack, the Omniport jack is configured as an instrument input and activated using the front panel switch. When not connected, the switch acts like a microphone mute.
As with all Radial products, construction is second to none. The PreMax's thick front panel is supported with a 16 gauge L-frame and the circuit is encased in galvalume to minimize noise caused by outside electromagnetic fields. Switches are also encased in steel and the sealed potentiometers employ steel shafts for extra durability. Connection to the frame features double sided gold contacts for optimal signal flow.
The PreMax won a Best of Show Award at NAMM this past January. The PreMax starts shipping June 17th, 2013 and retails for $350 USD. For more information on the Radial PreMax