Virsyn is happy to announce Version 2.5 of iVoxel with Audiobus support and iPhone 5 graphics support.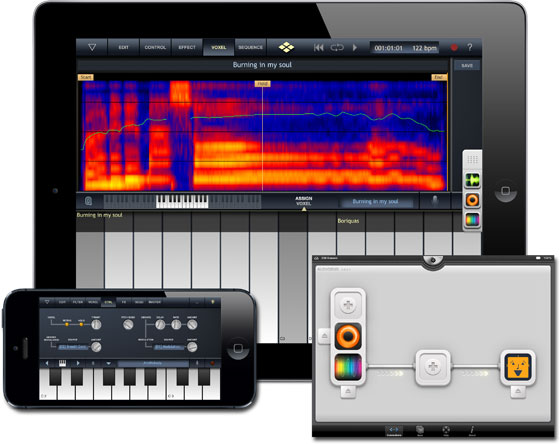 Audiobus compatibility
The new version of iVoxel can be used in the Input, Filter and Output slots in the Audiobus signal chain. The carrier signal and the vocal signal can now be fed by any Audiobus compatible Apps. For more information about Audiobus please visit: www.audiob.us
About iVoxel
iVoxel is not only an amazingly sounding vocoder – the unique concept of iVoxel turns this vocoder into a singing machine. iVoxel is a combination of a voice optimized synthesizer and a vocoder. The vocoder part is based on the Matrix vocoder from VirSyn used by many famous artists – one of them the well known german group Kraftwerk. The channel filters used by iVoxel are based on the Sennheiser Vocoder VSM201 resulting in a rich and fat analogue sound characteristic.
The pitch follower and automatic tuning let you sing correct to a selectable scale.
New in version 2.5
Audiobus compatibility with iVoxel as input, filter and output.
External sources for carrier and voice modulator via Audiobus
iPhone 5 compatible wide graphics.
Available on the Apple App Store.