Arturia is proud to release SPARK 1.7, a major update to the powerful software engine that drives its SPARK Creative Drum Machine and SparkLE Creative Drum Machine hybrid hardware/software instruments, on July 22.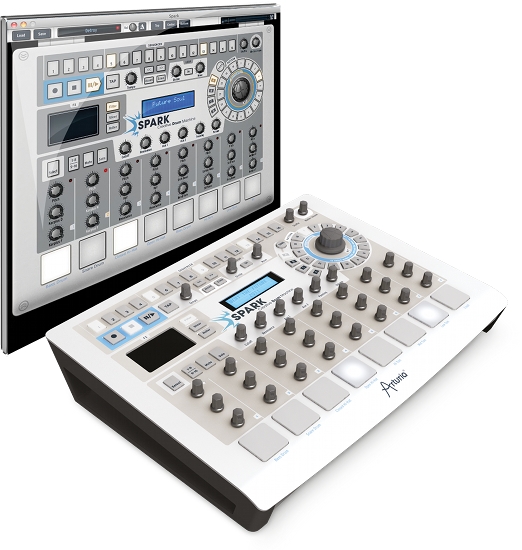 True Analog Emulation
When Arturia debuted its SPARK Creative Drum Machine in June 2011 it succeeded in revolutionising hands-on beat-making by cleverly combining TAE® (True Analog Emulation) synthesis, sample playback (with multiple layering modes and post-processing), and physical modelling technologies with the intuitive workflow of a hardware drum machine. Never one to rest on its creative laurels, the NAMM Show 2013 subsequently saw Arturia redefining what a drum machine should be by introducing the SparkLE Creative Drum Machine, an all-new, ultra-portable package sharing the same SPARK software engine with a price point to die for!
The beauty of these two eye- and ear-catching hybrid hardware/software solutions is that they need not stand still functionally and, of course, creatively. Far from it, in fact, for the speedy SPARK 1.7 software engine lets SPARK Creative Drum Machine and SparkLE Creative Drum Machine users drive their chosen instruments to even headier heights of creativity with faster loading times, thanks to improved RAM consumption.
Software Engine version 1.7
Under the hood of SPARK 1.7 lies an abundance of inspirational improvements. Immediately obvious is its redesigned browser with projects, kits, instruments, and samples all accessible within one easy on the eye and easy to use window. Here users can conveniently filter the results list according to the elements being browsed, auto-preview instruments/ samples while browsing, and hear how samples will sound as part of the currently selected patch using the In patch preview function or by playing the selected pad.
Several new hardware shortcuts similarly speed up workflow, such as clicking the jog wheel to open the browser, then turning it to scroll through the results list in either direction, and clicking it again to select whichever result is highlighted. Wherever your final destination may be, SPARK 1.7 gets you there quicker than ever.
Back in the creative hot seat, automation tool improvements also abound with Global automation (allowing users to globally apply incremental/decremental automation to an entire pattern), Smart automation (via various key combinations, such as right click to erase, alt+click to draw a line, shift+click to draw a global automation, and cmd+click to draw smaller resolution values), and Step automation (by pressing and holding a sequencer button and turning a knob, which results in the knob's value being written as automation when the step button is released).
And if that's not enough to get your rhythmical creative juices flowing then try adding six new stompbox-type modelled effects taken from Arturia's well-received Wurlitzer V high-end electric piano software emulation into the creative mix. Choose from 10-Band EQ, Analog Chorus, Analog Delay, Leslie, Pitch Shift Chorus, and Vocal Filter for a truly vintage sound.
Existing SPARK Creative Drum Machine and SparkLE Creative Drum Machine users can download the SPARK 1.7 update for free from here.