Specialist analogue synthesiser and innovative musical hardware distributor ALEX4 Distribution is proud to announce that partner manufacturer MFB is now shipping its eagerly-awaited Tanzbär Analoger Drumcomputer as of July 8.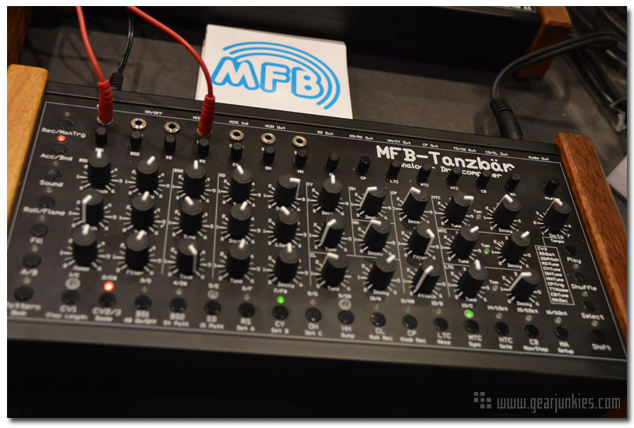 Dancing Bear
Having first created an eye- and ear-opening rhythmical stir on ALEX4 Distribution's well-visited stand at Musikmesse 2013 (where it apparently attracted the third-highest search rate on YouTube), Berlin-based electronic musical instrument manufacturer MFB's Tanzbär Analoger Drumcomputer takes the nostalgic sound of an analogue percussive past and transports it kicking and screaming to the performance-orientated present as a powerful new analogue sound. Perfectly packaged with innovative functions from contemporary sequencers and workstations, it's perfect for adventurous beat- making musical activists here, there, and everywhere!
Despite already having been a hit in its initial prototype form in Frankfurt, MFB engineers and programmers Manfred Fricke and Sebastien Preller have seen fit to add another synth voice to the hand-built production version so that it now features 16 high-quality analogue drum instruments. These include two bass drums, snare drum, rim shot, cymbal, hi-hat, and clap, plus low-tom, mid-tom, and hi-tom. These can all be thoroughly tweaked via dedicated knobs for spontaneous, hands-on control of various performance parameters like Decay, Tune, and more besides, making for an even more attractive analogue percussion proposition housed in an upmarket metal casing with eye-catching wooden end panels. Bringing up the rear, six full-size individual output jacks maximise mixing and processing flexibility for even more creative handling.
The tight step sequencer central to the Tanzbär Analoger Drumcomputer allows different step lengths per drum instrument with programmable accent and pitch-bend functionality, roll and flam recording, individual and global swing quantisation, and also per step recording of control values. Surely anyone recognising the value of intricate beat-making needs look no further? Furthermore, up to 144 patterns with A/B variations can be programmed and stored.
Yet those creative capabilities of the Tanzbär Analoger Drumcomputer extend beyond the scope of purely programming beats — intricate or otherwise. Thanks to inbuilt MIDI and CV connectivity it can also act as a perfectly serviceable sequencer with rock-solid rousing rhythmical results. Hitch up a MIDI- or CV/Gate-equipped synth, see where your musical muse takes you, and press Play!
With a diminutive desktop footprint, the Tanzbär Analoger Drumcomputer works well in any hybrid modern and/or vintage live performance or studio setup. And with an MSRP of only €840.00 EUR, what's not to like? So why not become a slave to the analogue rhythm with the production-ready Tanzbär Analoger Drumcomputer, shipping now!