With his latest collaboration single by Daft Punk, 'Get Lucky' reaching No.1 in over 50 countries around the globe, it was a huge honour for the International Music Summit (IMS), when Nile Rodgers agreed to create the IMS Anthem, which was then to be remixed by Eats Everything. After a hugely successful summit, it was agreed live by Nile Rodgers that the single would be put up for charity auction for licensing rights.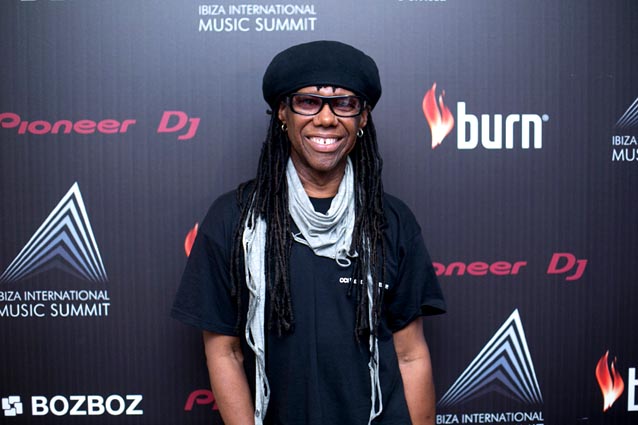 Nile Rodgers
As inspirational gentlemen go, Chic guitarist and maven producer Nile Rodgers is right up there at the top. A fixture on the airwaves globally since the 70's, whether it be rocking glorious lead guitar, producing music icons from Duran Duran to David Bowie or the many movie and game scores he has been involved in, there is barely a person among us who has not been touched by his music.
While Nile has spent the past two years blogging very candidly about his experience with cancer, he has continued to thrive musically, touching the world with his exceptional talent with more vitality and creativity than ever. Hot off the heels of a number one collaboration with Daft Punk, Nile Rodgers is the name on everybody's lips right now. Who better then to take on the 2013 IMS anthem?
One of the most unique elements to the International Music Summit, every year two artists are commissioned to produce and remix the IMS Anthem. In past editions of the summit the honour has fallen on artists including Sasha, Sister Bliss and Cassius, whose track was sampled on Jay-Z and Kanye West's 2011 collaboration album 'Watch the Throne'. This year, West Country wonderboy Eats Everything joins Nile as the remix artist for the anthem.
IMS co founder and partner Ben Turner jumped at the opportunity to have the two on board:
"Nile said he had found an old unreleased classic so we started here but very quickly he wanted to create something brand new with IMS in mind. Eats Everything is one of our favourite artists of the moment, so its become a dream collaboration. The timing is incredible with Daft Punk being number one in almost every country in the world."
IMS Anthem
On day two of the summit in the lush surroundings of the Ibiza Gran Hotel, Nile and Eats joined the IMS Anthem presentation hosted by Point Blank Music School to demonstrate their IMS creations. So well received were the results that immediately the delegation were demanding to know how to pick the track up. IMS partner Ben Turner was summoned to the conference room at the end of the panel and agreed with Nile and Eats that they would take bids from the floor for Nile's cancer charity. However, as bids for the rights reached GBP£5,000 it was decided at that point to auction off the license for the track in a bid to raise as much money as possible for charity.
Industry labels or brokers who wish to sign the IMS Anthem 2013 need to send all sealed bids to an independent lawyer. Both managers of Nile and Eats Everything will be consulted on the final decision process. The bidding process will begin on Monday 1st July from 9am and will continue for two weeks until July 14th at 9am. All bids to begin at GBP£5,000 minimum.
To make a sealed bid for the IMS Anthem, please email your company name, company number, country of origin and an offer covering advance, length of term, worldwide basis only, and all the usual elements to Leigh Head at Sherrards Solicitors (contact: lbh@sherrards.com).