Nine Inch Nails fluently speaks the language of dark and emotional electronics. From the angst ridden industrial-pop that distinguished the debut album Pretty Hate Machine to the more introvert and focused sound of the latest album effort The Slip, the act never loses sight of the most important element in music. Substance. Twenty-five years after the formation in 1988, Nine Inch Nails is a prime example of how quality stands the test of time.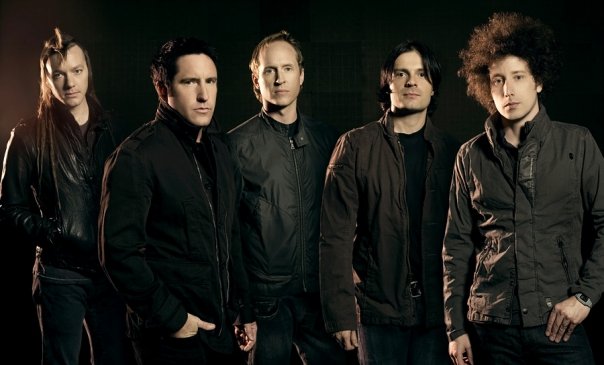 A heatwave has Los Angeles in a firm grip. It doesn't really bother Nine Inch Nails live keyboardist Alessandro Cortini. He is used to high temperatures and the hot spell even reminds him of summer days in Rimini, located close to Forli, the Italian city where he grew up. The memories are distant. Many years have passed since Alessandro packed his bags and left Italy for Los Angeles to study music on a more professional level. The guitar was his main subject, a preference that during his time studying slowly began to change.
— Coming from Italy, I found Hollywood to be quite surreal. The environment was really different. But I found that from the get go, people were more open. They listened to what you had to say and I found that liberating.
After quite some time studying, I reached a point with the guitar where I felt that in order to be really good, I had to spend time learning the theoretical framework. Harmonies, chord progressions and so on. That didn't interest me. Also, the general sound of the guitar had become a little too familiar. To come up with dramatically new sounds, you had to rely on effect pedals and external processing. I basically felt it was time to move on. It is strange. Sometimes you need to fully engage yourself in something to find out you're destined for other things.
In his search for new sounds, Alessandro started out with a laptop and music software. This setup was powerful, but he wasn't fully satisfied. Something was lacking. Unknowingly, his cousin came to the rescue. One day he came over to Alessandro's place and with him he brought a Minimoog. This wasn't the first time Alessandro got exposed to the strange allure of electronic instruments, as he already had some experience working with synthesizers and samplers from back when he still lived in Italy. This Minimoog however proved to be special. It opened the proverbial gates.
— I got the synth and, fast forward ten hours, found myself sitting there with headphones, a keyboard key constantly pressed and just turning knobs to change the sound. I was mesmerized! However, it didn't take long before I wanted more possibilities, more room for experiment.
After the Minimoog excursions Alessandro started looking for more advanced instruments that could fulfil his wishes of being sonically free and unbound. He got himself an Analog Systems modular, went on to experiment with Serge modules and finally ended up with the grand master of all modular synthesizers — the Buchla 200e. Alessandro's talent in programming the esoteric machine became so recognized that he started giving lectures in modular synthesis.
— I started lecturing while I was still studying the guitar. What I am trying to pass on to my students is that no rules exist. The process is what important, finding your own way of working. I mean rules are important, education is important, but the most important thing is finding your own path. I guess I'm trying to inspire confidence. When I buy a new piece of equipment, the first thing I do is erase all presets. I want to express myself through equipment. I guess you can think of using different pieces of equipment as speaking though different sorts of microphones. My voice can sound slightly altered, but you recognize it as the same voice. However, what I say today shouldn't necessarily be the same things I say tomorrow.
I know what you mean. That voice you speak of is kind of evolving. Sometimes time changes that voice and you see, or hear rather, your previous self in a different light based upon what you know today. You catch up with your past so to speak.
— Yeah, I've found that stuff I've made like six years ago, material I back then thought was so-so, today suddenly sounds really good. This insight has had a big impact on me: nothing you create is bad. It is necessary in order to be able to move on to new domains.
How Alessandro came to join Nine Inch Nails is a classic story if there ever was one. He spotted an audition ad where the band called out for a live keyboardist, went to the audition, did his thing and became a member of the band.
— It's funny you know. I am not a keyboard player. Never was. I think that is a part of the reason why I was able to join Nine Inch Nails. Because I haven't had any traditional education in keyboards I don't know how to properly play them. I don't know the rules and therefore I'm not hindered by them.
After being a part of Nine Inch Nails for over four years, Alessandro parted ways with the band in 2008. The hectic tour schedule and his wish to spend more time in the studio were deciding factors. The following years were spent making music for both himself and others. His merits from 2008 and onwards include producing acts like Ladytron and lending his synthesizer skills to Puscifer, a project led by Tool vocalist James Maynard Keenan. Alessandro's own projects, the duo Modwheelmood and solo projects Blindoldfreak and Sonoio, all saw new releases. But history tend to repeat itself.
— A couple of months ago, I gave Trent a call and after speaking to him I had re-joined NIN for the upcoming world tour. I quickly decided I wanted to do my part of the live set differently this time. I wanted a certain freedom. My ambition was to arrange my live setup so I could heavily manipulate all the sounds I'm playing live, but without them ever feeling ill-placed. The tour rig I'll be using is an evolution of the rig I used for the How To Destroy Angels tour. The Octatrack acts as a sequencer and I use the crossfader a lot to affect the sequences, loops and sounds. Previously I had its cue outputs connected to a really nice external reverb effect, but after the Dark Reverb got implemented I use that all the time. It sounds so good! The Analog Four takes care of a lot of drone stuff, it will for example be used extensively on the live version of Terrible Lie. I'll also use a Dave Smith Prophet 12, a Devilfish 303, a Nagra Tape recorder for playing back tape loops and a Tascam 424 MKII portastudio, used kind of like a four note Mellotron. That is my rig basically.
How do you work with Elektron machines?
— I use the black combo, that is the Octatrack and the Analog Four, a lot. When I first got hold of the Octatrack, it was like a revelation. Such gear honeymoon moments happen very rarely nowadays. I remember that I erased all samples and loaded the machine with 32 short sounds I had recorded from my Buchla 200e. I used Octatrack scenes to change chords and pitch and what not and before I knew it I had made seven tracks from nothing but those samples. It had a hard time believing it could be that easy to create music! For me, the Octatrack is the most inspirational instrument in the last twenty years or so. I always felt using standard samplers is a bit like cheating, but this is something completely different. With the Octatrack, samples can actually be shaped and remodelled.
The stand alone aspect of the Analog Four is something I cherish. Having four voices sounding this good in one box is a remarkable achievement. I really like the interface, that little mini-keyboard is so handy. No other equipment is needed to make rather complete arrangements.
Nine Inch Nails is about to embark on world tour and soon you'll release your eighth studio album Hesitation Marks. What roles do you all have when working in the studio?
— Trent is an extremely proficient musician. Very skilled and ambitious. I think we complement each other in a good way. He has a lot of gear I don't have and I have things he doesn't have. As far as the studio work is concerned, being involved with Nine Inch Nails is like being a part of a very well-oiled machine. You just get things done. That is related to one of the most important things I've learned from working with Trent, namely that things do not have to be perfect. Sometimes enough is enough, the process of creating does not have to be endless struggle.
When we are in the studio we try to stay a way from a straight or fixed work process. I try to respond to the requests of the music. In a sense we all do. For example during the recording of the Ghosts album, I jammed on electronic tabla machines, Trent live processed the sound with effect pedals and Atticus arranged the whole thing into something completely different. In another room Alan Moulder mixed ideas from recordings made just a couple of days ago. A lot of listening at very high volume levels took place. The Ghost album sessions were very intuitive, yet assembly line like. For me, my output or contribution is certainly not aimed at showing off my keyboard skills. I'm there for the greater good of making NIN unique.