Serato have released a new version of their Serato DJ software. Version 1.3.0 is the latest update which includes brand new FX, powered by iZotope for Serato's new FX Expansion Packs. Favorite FX to customize your FX lists, Slip Mode for all supported controllers, support for the Novation Twitch, Vestax VCI-300 + VFX1, and a healthy dose of maintenance / bug fixes for continued stability and performance.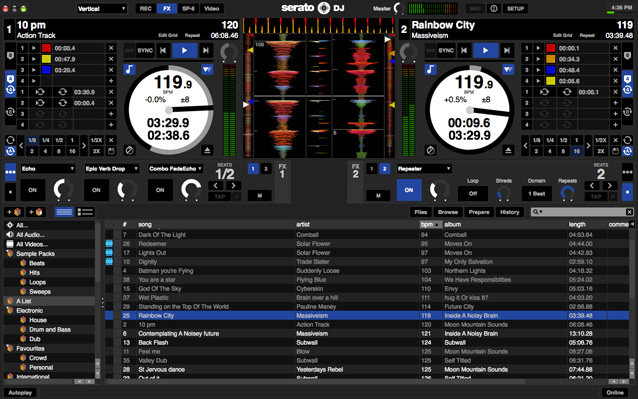 Sam Gribben, CEO of Serato, says: "We're very please to announce our latest update of Serato DJ with the release of version 1.3.0. This is another big step forward for us with the inclusion of our new FX Expansion Packs and Favorite FX feature. This is just the beginning of much more to come in the expansion pack area, and we can't wait to see what our users will discover when these powerful new FX are used in Serato DJ's Single and Multi FX modes. It's also exciting to expand the Serato DJ supported controller base with the addition of Novation Twitch and Vestax VCI-300 + VFX1 support. Alongside this, version 1.3.0 also offers all Serato DJ users the powerful Slip Mode performance feature. We're working hard on the continued development of Serato DJ, and we're excited about what the future holds."
Key new features of Serato DJ 1.3.0
SERATO DJ FX EXPANSION PACKS
Serato DJ 1.3.0 comes with two brand new FX Expansion Packs, containing new FX powered by iZotope.

The Wolf Pack, available as a free download, and the Back Pack, which is available to purchase for USD19.

Expansion Packs can be purchased / activated in-app within the Serato DJ 'Online' window, or from the Serato Online Store.

Each new FX Expansion Pack comes loaded with several base FX for use in Single FX Mode, plus, a large number of base FX variations for use in Multi FX Mode.

For the full list of FX available in the Wolf Pack and Back Pack, and to watch Logan from the Serato Product Team demo the new FX, please visit serato.com/dj/expansion-packs/fx
FAVORITE FX
New to Serato DJ 1.3.0 is the Favorite FX feature, which can be found within the Serato DJ setup screen.

Favorite FX allows you to customize the FX select drop down menus that appear in Serato DJ, showing the FX you choose as your favorites.

Maintain your growing FX list, and easily Add / Remove FX to your favorites list to suit your own performance needs.
SLIP MODE FOR ALL SUPPORTED CONTROLLERS
With Serato DJ 1.3.0 anyone using a supported Serato DJ controller will now be able to use Slip Mode.

When Slip Mode is activated you can manipulate the audio as normal (e.g. Scratching, Looping, triggering Cue Points etc.) however, once you have finished, the playback position is returned to where it would be if you had not manipulated the audio.

Slip Mode can also be MIDI mapped to a secondary MIDI controller if your hardware doesn't have a dedicated Slip Mode button.
SUPPORT FOR NOVATION TWITCH & VESTAX VCI-300 + VFX1
Novation Twitch and Vestax VCI-300 controllers are officially supported with a Free Upgrade to Serato DJ 1.3.0.

The VFX1 FX add on controller is also officially supported with Serato DJ 1.3.0 and can be used with any supported Serato DJ controller.

To learn how these controllers are mapped to Serato DJ, please view their new Quick Start Guides at serato.com/dj/support

Serato DJ 1.3.0 also supports the following Serato DJ Intro controllers as a paid upgrade: Numark Mixtrack Pro, Mixtrack Pro II, Mixdeck, Mixdeck Express, N4, Pioneer DDJ-ERGO, DDJ-WeGO1, Reloop TM2, Reloop TM4, Vestax VCI-400, Vestax Typhoon and Denon MC2000 controllers.
Trial Version
Users of these controllers also have the option to activate a Free 14 Day Trial and unlock the fully functional software to take advantage of all the advanced features it has to offer. Easy to activate within the software, just download Serato DJ 1.3.0 and follow the instructions in-app.
Serato DJ is a comprehensive digital DJ platform that allows you to record and share your sets. Add acapellas and stems with 4 deck mixing for supported controllers. Color your mixes and blends with advanced FX, powered by iZotope. MIDI mapping for use with a secondary controller, and support for Serato Video to add a whole new visual element to your performance. All these professional level features and much more are available in Serato DJ 1.3.0
Serato DJ 1.3.0 will be followed by further Serato DJ support for Serato DJ Intro and ITCH controllers such as: Numark V7, Numark Mixdeck Quad and Vestax VCI-100 Mk2 in a gradual rollout this northern fall.
Serato DJ 1.3.0 can be downloaded direct from serato.com/dj/downloads.