The New AKAI MPC Element combines with the all-new MPC Essentials software at a groundbreaking price to make the iconic MPC music-making experience available to everyone.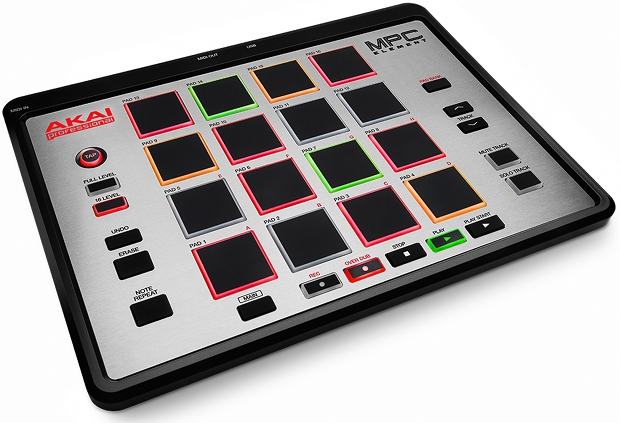 Adding to their industry-leading MPC line, which includes the flagship MPC Renaissance and slimline MPC Studio controllers, Akai Professional has now introduced MPC Element along with its new software platform, MPC Essentials. With dimensions similar to popular tablet computers, MPC Element is Akai Professional's most portable MPC yet, and it's also the most affordable.
"This is professional music-making capability for everyone," said Dan Gill, Product Manager, Akai Professional.
An MPC for Everyone
MPC Element includes classic MPC Note Repeat, Swing, Full Level, 16 Level, and Tap Tempo technologies and, like MPC Renaissance and MPC Studio, MPC Element's pads are multicolor as well as pressure- and velocity-sensitive. "It's versatile. We've designed MPC Element to be as powerful as you need it to be. You can easily load your own samples, quickly make beats, or dive deep into the included sound library and get down into the details," said Gill.
MPC Essentials Software Included
The included 64-bit MPC Essentials software can import WAV and AIFF samples and comes with more than 1GB of essential sounds. Up to eight pad banks can be created for instant access to a total of 128 samples. Up to four insert effects can be added per pad. "The flexibility of the MPC Essentials software is key. We've made it so users can make music standalone—using MPC Element, MPC Essentials, and their laptop—or by bringing MPC Essentials into their current workflow, using it as a plugin in their current music software of choice," said Gill.
MPC Element operates via standard MIDI, so it can be used to control any MIDI music software. An 1/8-inch MIDI input and output are onboard and 1/8-inch to 5-pin MIDI cables (the same that come with MPC Studio) are included. MPC Element is bus-powered, no power adapter required.
MPC Element will be available from musical instrument retailers in October for $149.99 USD. For more information, visit akaiprompc.com/mpc-element.