Well, … look at that. Audio Damage have entered the 'hardware' world. They have introduced a trio of Eurorack models in the week they celebrate their 10th anniversary. Audio Damage have succeeded in releasing a hardware platform for their DSP effects, and are ludicrously proud to unveil the first three Audio Damage hardware products: DubJr, Grainshift, and Errorbox.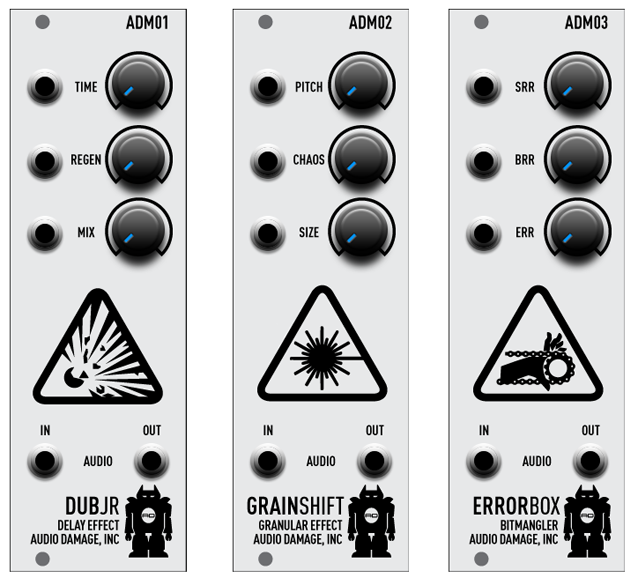 Chris Randall, from Audio Damage says: "All three are 8HP Eurorack modules with ARM7 CPUs doing the dirty work; they all retail for US$179.00, and all three are now available at Analogue Haven for immediate purchase. Analogue Haven will be the exclusive U.S. distributor for our hardware products; they will not be available via the Audio Damage website. We're currently in negotiations with a couple other distributors; we expect to have product at EquinOz within the next couple weeks. If you'd like to see Audio Damage Euro products at your favorite (non-U.S.) modular synth store, tell them to drop us a line, and we'll try to get it sorted."
DubJr
DubJr is a hardware analog-style delay effect in the Eurorack modular format. This is the delay from Dubstation, in a pint-sized Eurorack modular format, for your knob-twisting pleasure.
GrainShift
Grainshift is a real-time granular pitch-shifter and chaos effect for the Eurorack modular format. From simple smooth micro-tuned pitch shifting and chorus effects on up to full metal granular chaos, Grainshift is a versatile module, easy to use and fun to have.
ErrorBox
Errorbox is just like any other tool-kit utility module, except that in this tool-kit, all the tools are chainsaws and rabid badgers. The first of the three tools is a sample rate reducer that goes from the 48kHz operational sample rate of the module, down to 50Hz. The second tool is a bit rate reducer that takes the input signal and turns it in to a square wave. The third tool is our own ERR algorithm (as found in our Kombinat Dva plug-in) that messes with the audio in a way that only an oscilloscope could love.
For more information and specifics please visit the Audio Damage website.
Update: … and there's video too now.