After the relases of Serato DJ 1.5 last week we knew of the soon arrival of the Rane Sixty-Four DJ Mixer for Serato. But now Rane have made it official! They are pleased to officially announce the Rane Sixty-Four mixer for Serato DJ. Everything you love about the Rane Sixty-Two mixer and more in a four-channel mixer powerhouse. Rane and Serato continue their ten-year partnership with Rane's professionally-crafted, art-expanding DJ gear integrated with Serato's world-famous digital vinyl emulation software.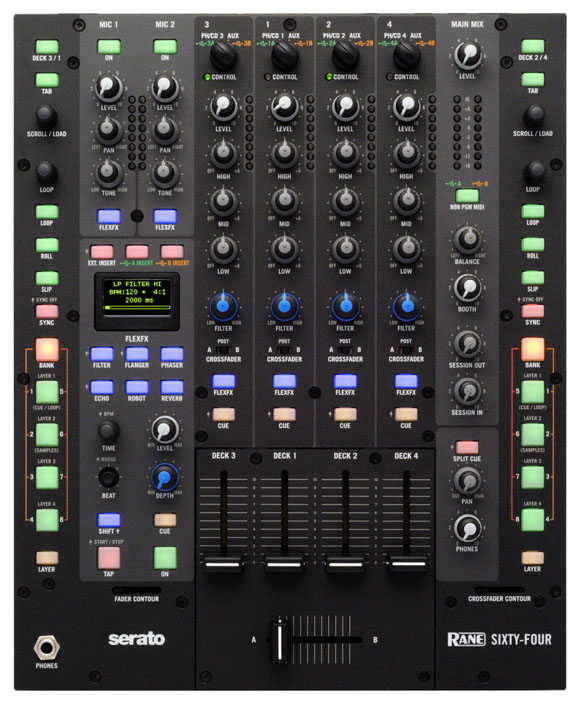 Powered by Serato DJ
This bundled combination is custom-built for DJs of every genre. Whether you're mixing analog, DVS, digital or a combination of these, the Sixty-Four includes everything you need to take your art to the next level.
Tight integration with Serato DJ software provides intuitive control of Serato DJ features like Libraries, Sync, Slip, Jump-to-loop and Samples, all without taking your eyes off the mixer or packing extra controllers.
Quickly and easily add and remove audio channels from the FlexFx loop to gain access to six built-in effects, post-fader Serato DJ iZotope effects and an external effects processor, in any combination.
With two computers connected, simply switch a mixer source selector to instantly assign audio and MIDI to the desired USB port. Each port features a 22-channel soundcard, providing the resource you need for music production, remixing and routing Serato DJ iZotope effects to your post-fader mix.
Eight years ago, Rane set the standard for mixer/controller hybrid DJ mixers with the revolutionary TTM 57SL. Two years ago, they introduced the next evolution of DJ mixer/controller hybrids, the much loved Rane Sixty-Two. Now, the revolution continues with the Rane Sixty-Four mixer for Serato DJ. How will you harness the power of the Rane Sixty-Four mixer?