Korg is bringing back the classic rhythm machine as a mini drum machine. Energize your practices and performances with diverse rhythm patterns! The KR mini – an easy, simple and compact rhythm machine with a built-in speaker and optional battery power for play-anywhere convenience.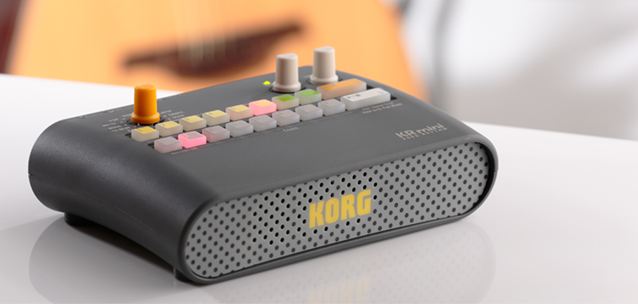 KR Mini
It's a great companion for practicing and performing with guitar, bass, keyboards, winds, or any type of instrument!
Key Features
Easy-to-use design; just select a rhythm pattern and press the play button
Chain function lets you arrange your favorite rhythm patterns and fill-ins to create complete songs
Optional foot switches gives you hands-free control over fill-in/start/stop
Tap the 16 pads for finger drumming or recording your own rhythms
Built-in speaker with 2W output for jamming anywhere without the need for an additional monitor
Headphone/speaker jack for quiet practice or connection to a mixer or monitoring system
Two-way power; use the optional AC adaptor or batteries (AA alkaline batteries x 3)
Many musicians wish that they could enjoy casually performing while being backed up by real rhythm patterns rather than just a metronome. Korg has responded to these wishes with the KR Mini rhythm machine. It features a simple design that eliminates all complex functions, looks that overflow with nostalgia and analog-like controls. Playing a rhythm pattern is easy as making selection and pressing play. A total of 60 diverse rhythm patterns and 120 fills are ready to accompany you. Easy, simple and compact, the KR mini can play its role anywhere.