Novation is excited to announce Launch Control: a robust, compact controller with 16 assignable knobs, eight three colour launch pads, and four function keys – designed to be the perfect partner to Launchpad. Use Launch Control's knobs for fluid control of filters, levels, and effects while you use the launch pads for muting, effects activation, or even launching clips and scenes.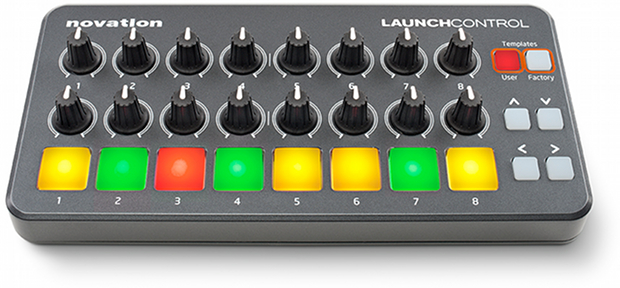 Augment the power of Launchpad with Launch Control and take your performances to new levels of expression, or simply use it alone. Launch Control comes with Ableton Live Lite in the box and works with all major music software – and with your iPad via Novation's powerful and free Launchpad app.
Launch Control At A Glance
• Compact control surface with 16 knobs and eight three colour launch pads
• Perfect partner for Novation's Launchpad, Ableton Live and FL Studio – plug and play with the built-in mappings, create your own and MIDI-learn parameters
• Integrates perfectly with the Launchpad app for iPad – control volumes and filters with the knobs, and trigger FX and clips with the pads
• Tough, portable and bus-powered – even from an iPad
• Eight factory templates and eight user templates allow you to create and save your own control setups
• Comes with Ableton Live Lite – the music production software used by countless leading artists to produce and perform and an extensive Loopmasters sample pack
Additional Details
Novation Launchpad has changed the way musicians produce and perform music, with instant access to a 64-pad grid of buttons. Launch Control adds 16 knobs, enabling you to transform performances and studio workflow – and another eight three colour Launchpad pads. Get hands-on control of devices in Ableton Live and other software to control, fine-tune, tweak, and express yourself in real time.
Launch Control doesn't just give you 16 knobs and eight launch pads. Eight factory and eight user templates allow you to instantly take control of multiple instruments and effects without remapping, whatever your software.
Use the free Launchpad app with Launch Control on your iPad to trigger the included loops and samples and control effects, letting you produce and perform music straight away. Add in new professionally produced loops and sounds and import your own samples as your needs grow, before sharing your creation with your friends and fanbase. Launch Control connects directly to your iPad with the Apple Camera Connection Kit (not included) and it's powered by the iPad.
Launch Control works with all major music software on Mac and PC and is fully class-compliant, controlling MIDI-compatible software like Ableton Live, Cubase, Reason, Logic and FL Studio with no need for drivers. And both Ableton Live Lite and an extensive Loopmasters sample pack are included.
Availability: Worldwide in September 2013, pricing information: $124.99 MSRP / $99.99 at dealers
More info: www.novationmusic.com/launch-control