Serato DJ users can reach new heights of spontaneity and creativity as Pioneer releases the Digital DDJ-SP1: the add-on controller designed for seamless access to the software's four decks and inspiring performance features.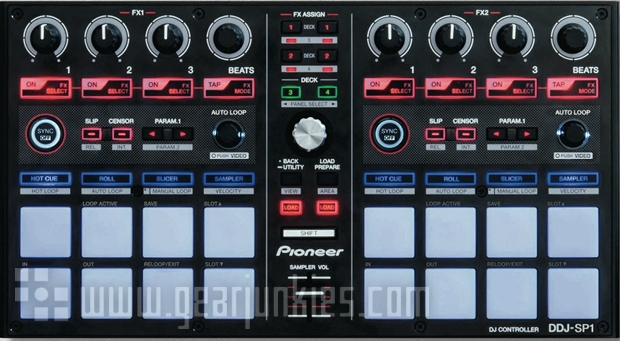 Pioneer DDJ-SP1
DJs simply add the DDJ-SP1 to a set up that supports mixing and scratching with Serato DJ – for example a laptop, timecode CDJ/turntables and DJM-900SRT mixer or DDJ-S1 controller. They can then get hands on with pre-mapped buttons and dials to trigger the software's six samples, eight Hot Cues and over 30 FX Powered by iZotope – without the need to touch the keyboard or mouse.
The DDJ-SP1 adds a further physical dimension to performance thanks to the dynamic Performance Pads: sixteen rubber LED pads that let DJs trigger seven modes – Hot Cue, Slicer, Roll, Sampler, Hot Loop, Auto Loop and Manual Loop. Velocity Mode lets them control the volume of samples by how hard they hit the pads. Plus, precision loops, scratches and reverses are made easy by Slip Mode, which silently continues playback and brings the track back in at exactly the right point.
Like its forerunner, the Digital DJ-SX (Model Name: DDJ-SX), the DDJ-SP1 was built to withstand the rigours of the booth, with a durable and stylish aluminium faceplate and rubber pots. With a slim build, instantaneous set up and sturdy T-U101 X-Stand (sold separately), this compact controller is a perfectly portable addition to any DJ booth.

The DDJ-SP1 is available from October 2013 at an SRP of EUR399, including 19% VAT. Plus the DDJ-SP1 comes with a voucher for a free download of the Serato Video plug-in, worth around EUR 116/ GBP 92.
Perfect for any Serato DJ users that want to get the most out of Serato DJs advanced features. The DDJ-SP1 is an exciting addition for new users of the Pioneer DJM-900SRT, or any other Serato DJ set-up. The DDJ-SP1 comes with tightly pre-mapped controls for the exciting performance features of Serato DJ software including:
Hot Cues, Loop Roll, Slicer, SP-6 Sample Player, Auto Loop, Manual Loop, Velocity Mode for the SP-6, Slip Mode, Sync and also Hot Loop
Hot Loop, triggers an Auto-Loop when you hit one of your 8 cue points
Directly matched controls for the Serato DJ FX, powered by iZotope. Select, load and control your FX in both Single FX and Multi FX mode
Each FX unit can also be switched