UVI is proud to announce availability of its first effects plug-in, Sparkverb, a revolutionary reverb geared up towards achieving a fine balance of striking sound quality and copious CPU efficiency. Having first memorably made an audible appearance last year in UVI's critically-acclaimed Darklight IIx — a stunning software instrument inspired by the quintessential '80s high-end sampling/sequencing dream machine much beloved by the likes of Kate Bush, Thomas Dolby, Peter Gabriel, Jan Hammer, Trevor Horn, Jean-Michel Jarre, and Steve Levine, amongst many more top-tier recording artists and record producers playing a significant part in really revolutionising music production.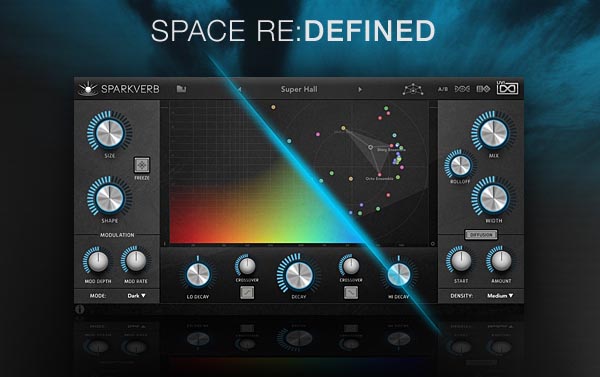 UVI SparkVerb
As well as all soundware since released by the cutting-edge company, SparkverbTM, UVI's revolutionary reverb technology, now gets a welcome outing in its own right as a surround-capable, 64-bit processing plug-in namesake. Now anyone can explore everything throughout the entire reverberation spectrum — from natural-sounding spaces to infinite, shimmering ambiences — with stunning scope and accuracy, and apply them with the greatest of ease to their favourite instruments — software-based or otherwise — and sounds while working within the comfort of their favourite DAW!
Depth and complexity such as this typically involves having to deal with an accompanying dense and complex interface — not so with Sparkverb, however! Here much thought has been given to reducing time spent tweaking in favour of time better spent being productive, thanks to a resizable — small (784x415px) by default or large (1176x623px) — GUI graced with the fewest controls possible to allow a high degree of customisation clearly unmatched elsewhere. Usability was a crucial consideration in its development.
At the core of this glorious GUI is the Decay Editor, a frequency-based spectrum editor for speedily sculpting and refining reverbs. Adjust decay globally and across multiple bands with LO DECAY and HI DECAY time multipliers and associated CROSSOVER and Cut settings across a single canvas — an entirely new way to work with reverb! Roam freely wherever your creative muse might take you!
All other controls are arranged clearly and accordingly labelled: variable DENSITY settings (to affect the number of internal delays — from sparse echoes to dense reflection patterns), advanced DIFFUSION algorithms (allowing percussive material to reach sufficiently high short- time echo density), tuneable MODULATION (for pitch accuracy regardless of scale), A/B comparison (making fine-tuning a painless process), and much more besides. Be it simple or complex, dialling in a reverb has never been so speedy!
Those needing a more managed mode of exploration need look no further than the trailblazing Preset Voyager — voila! What's it all about, though? At startup, Sparkverb creates a two-dimensional array of all available presets. Toggling from the main display (Decay Editor) to the Preset Voyager displays all Factory Presets and User Presets in an eye-catching cloud-like arrangement according to their similarity and conveniently colour-codes them based on their category. Cleverly, click-dragging in the cloud changes the current reverb setting by interpolating between the parameters of the adjacent presets — perfect for quickly creating new presets while watching controls update in real time to see what's happening. Here the possibilities for redefining reverb spaces are quite literally limitless!
Regardless of which mode you are working in, Mutate and Randomize functions are always accessible, applying small and large random changes respectively. Discover new sounds and find inspiration instantly with next to no effort — except peeling back your ears! Better still, parameter locks are available on each and every control here, making these fast-track functions even more useful. Experiment within prescribed boundaries such as a fixed MIX (dry/wet) amount or (stereo/surround) WIDTH to seek out exciting variations that work well for a specific need.
UVI's proprietary Parametric FDN Engine upon which Sparkverb is built so solidly evolves algorithmic reverb design to another level entirely. Its breakthrough performance provides unprecedented access to true high fidelity on as many tracks and busses as needed without worrying about CPU overload since Sparkverb can be instanced near-limitlessly. Need to run 400 instances in a single PT11 session? Never say never!
Of course, it goes without saying that a generous helping of Factory Presets are all there for the taking — let your ears do the talking! But beyond that ear-catching curtain-raiser awaits a sound-designer's dream dedicated to those who wish to delve deeper into stunning- sounding spaces via a fresh feature set that positively radiates creativity at every twist and turn. Work faster and smarter than ever before with this must-have plug-in for today's adventurous audio professional. Put simply, Sparkverb redefines the way you resound!
Sparkverb is available to purchase in Mac OS (AAX, AU, MAS, RTAS, VST) and Windows (AAX, RTAS, VST) compatible formats as a direct download for $199.00 USD or physical boxed product for $199.00 USD (plus $29.00 shipping) from UVI's online Store here: www.uvi.net/store
The Sparkverb license can be freely stored on a computer (no iLok USB smart key required) or on a portable and convenient iLok USB smart key. Users can conveniently switch between these two license protection modes at any time.
For additional information, please visit the Sparkverb product page: www.uvi.net/software/sparkverb.