FXpansion's Tres is a monosynth Rack Extension for Reason featuring DCAM circuit-modelling technology and advanced TransMod modulation. The oscillator section's complex timbral output is sculpted by filter and VCA sections full of warmth and characterful tone. All important parameters can be modulated with internal LFOs and envelopes or external CV sources to produce fresh and original bass, lead, percussion, drone and FX sounds.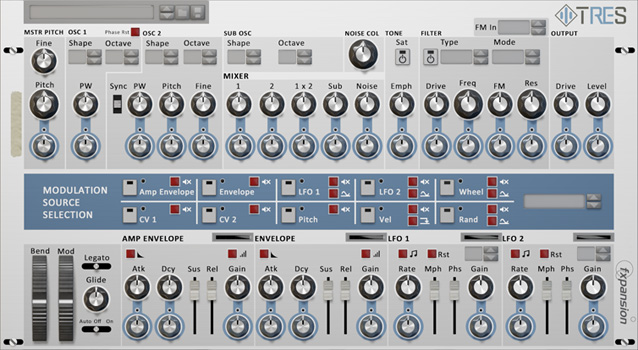 FXpansion TRES
Tres is a DCAM analogue circuit-modelled monosynth Rack Extension from FXpansion. It features exciting TransMod modulation and a wide variety of timbral flexibility and tone sculpting.
Tres's modelled VCOs offer interesting audio-rate functions for complex tones along with filtered noise and a sub-osc. A keytracked shelf-EQ allows you to emphasize or cut higher harmonics before a multimode filter with huge resonance, self-oscillation, FM, adjustable drive and 3 distinct classic synth filter models. Tres's final output VCA provides a final drive stage for a variety of tonal colours from warm and smooth to gritty and aggressive.
Most of Tres's parameters can be modulated simultaneously by any of 10 available modulation sources, including Tres's built-in dual envelopes and LFOs and external CV sources from elsewhere in your Reason project. You can also route external sources for audio-rate filter FM and use Tres's built-in envelopes and LFOs to modulate other devices within your session.

Use code GEAR20 for a 20% discount!