iZotope have announced the availability of the updated vocal software Nectar, now in version 2. Bring a vocal track to life with the only complete set of tools designed specifically for voice. Add impact with modeled plate reverb, harmonic saturation, and a wealth of creative effects. Stay in tune and remove distracting breaths without tedious, time-consuming editing. Instantly transform a single vocal take into a dynamic, harmonized ensemble. Whether you're tracking or you're mixing, Nectar 2 delivers professional vocals in an instant.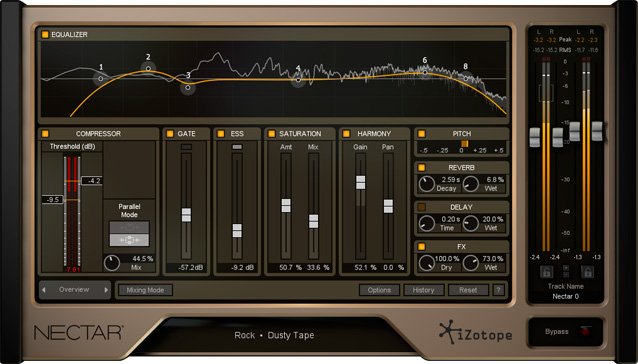 Bring your vocal tracks to life
From quick corrections to limitless creativity, Nectar 2 treats your voice to sweet results. Get professional vocals in an instant with intelligent tools designed specifically for voice.
The Nectar 2 Production Suite includes the Nectar 2 plug-in with 11 powerful vocal modules, plus two additional plug-ins:
– Add impact with the new EMT 140-modeled Plate Reverb.
– Transform a single vocal line into a harmonized ensemble.
– Expand your vocal palette with the wild new FX module.
– Rapidly audition different vocal sounds with 150+ presets.
– Keep your tracks smooth and in tune with dedicated Pitch Editor and Breath Control plug-ins.
Nectar 2 Standard Edition is the new Nectar 2 plug-in without the additional Breath Control and Pitch Editor plug-ins.