TASCAM's new TH-MX2 closed-back, mixing headphones are the latest addition to TASCAM's acclaimed line of headphones. These headphones are tailored perfectly for recording and mixing, but also fit nicely into everyday music listening needs. These headphones come in industry-standard black design, and supply users with supreme audio quality, versatile fit and extreme comfort for extended wear.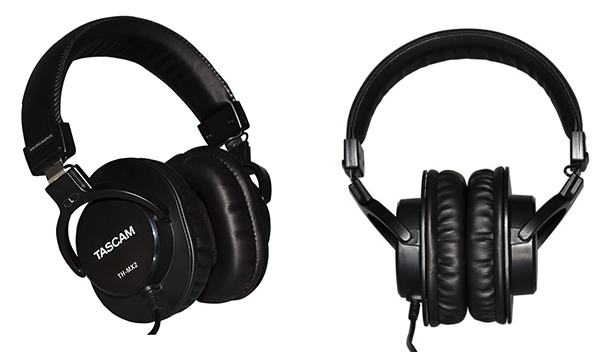 Mixing/Recording Headphones
The TH-MX2 headphones offer an extremely lightweight but durable design. Tightly stitched around a stainless steel frame is an extra cushion to ensure a cozy fit. Also equipped is an elongated cable for users who need to utilize all areas of the studio while recording and mixing. In regards to audio quality, users will experience a clean honest representation of their audio. The new 40mm neodymium magnet drivers inside the closed back, oval ear-cups deliver a true, balanced sound that engineers, musicians and everyday listeners can all respect.
The headphones ship with a 3.5mm to 1/4" screw-on adapter and a black leatherette bag for travel. Simply plug the TH-MX2's into any audio-listening device, or pair them with TASCAM's portastudios, interfaces (like the US-366) or any other home recording setup for an impressive audio reproduction.
Main TH-MX2 Features
Lightweight and Closed Back Design
Tightly-Stitched, Padded Headband and Ear Bands for Stylish Comfort
Stainless Steel Framework and Adjustable Arms
Brand New 40mm Neodymium Magnet Driver
Dynamic Transducer
Honest and True Audio Reproduction
Screw-on 1/8" (3.5mm) to 1/4" (6.3mm) Adapter and Leatherette Bag
Driver Diameter: Ë 40mm
Impedance: 32 W
Sensitivity: 95 dB ± 3 dB
Frequency Response: 15 Hz – 22 kHz
Max Power: 400 mW
Cable Length: About 9.8ft (3m) when fully extended